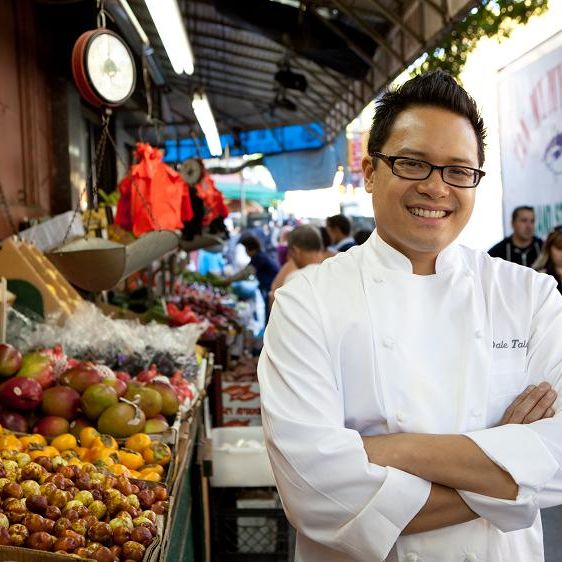 Grub Street got Top Chef Dale Talde on the phone today to talk about Talde, the restaurant he's planning to open in Park Slope in early fall. Talde will be a chef-owner in the project, with partners John Bush and David Massoni of Thistle Hill Tavern, and they're designing an "Asian-American" menu for the spot. So what does that mean, exactly? Well, it's kind of all over the place: The chef intends to serve Southeast Asian flavors and dishes, "but also Chinese and Japanese," and he wants to "incorporate a lot of Brooklyn and be as local as possible." Also, eventually, there'll be lunch with "great sandwiches, great soups, and great salads." Sort of brings to mind the dreaded "F" word (get your brain out of the compost bin: We mean "fusion"), which doesn't worry Talde: "Fusion is so pooh-poohed by everybody. For me, when I get Popeye's chicken and I go home and put Sriracha hot sauce on it — that's fusion."
So can we hope for some fried chicken on the menu? Yes, indeed. That'll be done Korean-style, "in a rice flour batter, with a little fish sauce, definitely some Korean chiles. It's spicy, it's crunchy, and we're serving it with peaches that have been dressed with lime and a little mint." Other planned dishes include perilla leaf salad with toasted shrimp, coconut, tamarind, and caramel; and crispy-oyster-bacon pad thai made with Benton's Bacon, and Frank's Red Hot; also a wedge salad with Sriracha-based dressing and Chinese-style bacon. In honor of his girlfriend, a vegan, Talde plans to offer a "market ramen" based on what's available and fresh. When the restaurant opens hopefully in September that might mean a cold late-season tomato broth, and later on in the fall, roasted-mushroom and squash bases.
The place will have around 70 seats, 20 or so at a "chef's table"–style counter with views into an open kitchen, and later on, the team hopes to add outdoor space in front. Talde will start off offering dinner, and probably will add lunch and brunch — "we'll see what the neighborhood wants." In fact, that's kind of a credo for the place: "We want to be a neighborhood restaurant," Talde says, somewhere to eat or order from "two to three times a week." And he hopes that the variety of flavors and cuisines will help foster that. Take that, fusion-phobes.
Talde, 369 Seventh Ave., nr. 11th St., Park Slope
Earlier: Top Chef Alum Teams Up With Thistle Hill Tavern Team for Asian Spinoff