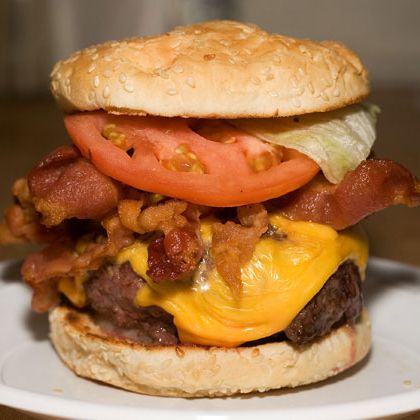 The burger at Corner Bistro.
Photo: Konstantin Sergeyev
Practically hallowed 50-year-old West Village hamburger bar Corner Bistro will open in Hunters Point, Queens, most likely before the end of the year. (Feel free to take a look at the vitals on the very-famous burger in our Burger Register.)
Blogger Why Leave Astoria noticed that Liqcity's rundown for next week's Community Board 2 meeting lists the Corner Bistro as the new tenant at 47–18 Vernon Boulevard, former home to Cassino restaurant; they're seeking a full liquor license.
Corner Bistro manager and partner Harold Wedick tells us that owner Bill O'Donnell (who's been with the restaurant for almost 45 years, and even witnessed the advent of the revered greasy burger in 1977) hopes to have the new place, which includes a back patio, open for business in "3 to 4 months."
PUBLIC HEARING: Strip Club Gypsy Rose still fighting for a spot in LIC [liQcity via Why Leave Astoria]