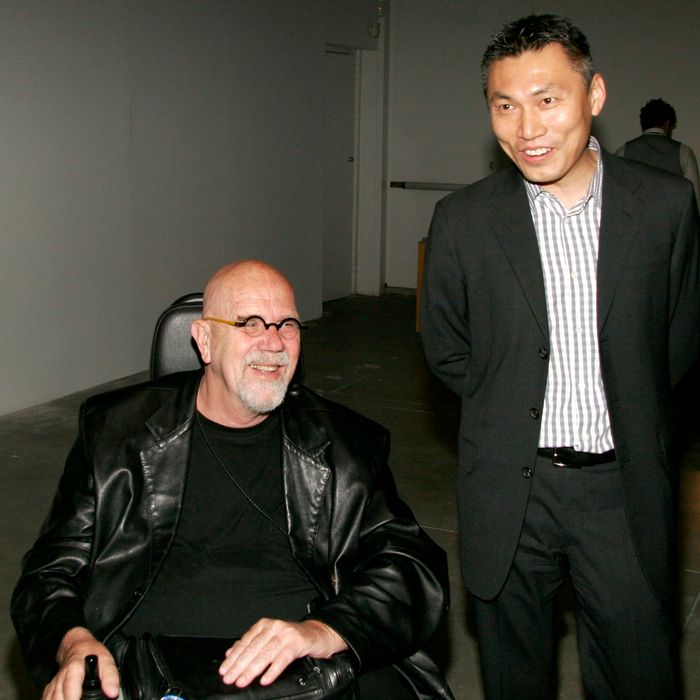 Close, in 2008.
Photo: Jason Augustine/Patrick McMullan
Renowned artist (and Bond St. resident) Chuck Close was on hand for last night's Community Board 2 meeting at NYU's Silver Building to help sway the SLA committee's opinion about a new project from his friend, Il Buco owner Donna Lennard. Close says the project, a soon-to-open Great Jones Street Italian market and wine bar called Il Buco Aliminentaria/Vineria, would be a "gift to the neighborhood." Close also plugged bars and restaurants as engines of rejuvenation in the once drug-ravaged downtown area.
"Bars and restaurants saved our neighborhood," he said, adding that Bond Street was "the biggest crack street in lower Manhattan" when he first arrived in the late sixties. "The gutters were welling over with crack vials and broken glass from car windows that had been broken into. Restaurants and bars kept our streets lit and populated."
Lennard ended up getting a conditional denial from CB2's SLA committee, saying it was a very good outcome: "I'm going to get my liquor license," she said. "A conditional denial is a very good thing. It means they give you stipulations connected to the liquor license, things we're going to abide by." Lennard's next stop in the process is the full board meeting of CB2 this month. Per usual, the New York State Liquor Authority has the final say.