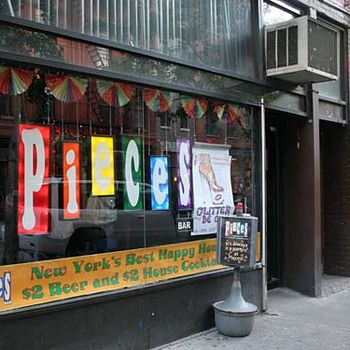 The whole place is on the move.
Photo: Shanna Ravindra
Quite the turnabout: Last night, Community Board 2 dismissed the earlier recommendation of its SLA committee and voted to approve a new motion supporting a liquor license for Pieces bar — the gay men's icon on Christopher Street that's relocating to 61 West 8th Street — over strong objections by local neighborhood groups. The SLA committee had originally voted to deny a license to Pieces on July 14, citing concerns by neighbors about noise, congestion, and late nightlife hours. (Not to mention "sex acts in doorways.") The full board vote was 33 in favor, 8 opposed, and three abstentions following a voice vote and show of hands on the 22nd floor of the SEIU local building at Sixth Avenue and Grand.

Board members voted after a lengthy public hearing. Several opponents contended that Pieces at its current location had a long list of noise complaints and bar fights reported to the NYPD's 6th precinct and "filth caused by smokers and others using the street as a toilet." Others tried to tamp down any suggestion that their objections to the bar getting a new liquor license were based on homophobia, claiming Pieces' new location was already oversaturated with bars. "We're becoming a bar block," said Comac Flynn, a leader of the West 8th Street Block Association. "This is not an attack on Eric," he added, referring to Eric Einstein, who has been the owner/operator of Pieces for the last six years.
Einstein told the board that Pieces had to move from its Christopher location after eighteen years in operation because the building is set to be "gutted" by its landlords. He denied that the new spot, between Sixth Avenue and MacDougal, would increase the number of bar licenses on West 8th Street since the location held one while operating as Patty and Bun, around the corner from Gray's Papaya. (It's now vacant.)
Reached after the meeting, Einstein told us he considered the board's vote for his future watering hole to be highly unusual. "It's pretty much impossible to reverse a negative committee decision," he said. "I thought it would be rubber stamped. I was hopeful but knew the odds were against it." He attributed the reversal in part to his contacting CB2's Raymond Lee, co-chair of the SLA committee, and informing him earlier this week that he would be wiling to change his late-night closing hours, from 2 a.m. on weeknights and 3 a.m. on weekends to 2 a.m. "across the board."
During the board's executive session, SLA co-chair Michael Stewart, who was not present at the July 14 committee hearing, made a motion to vote for a new resolution approving Einstein's application. Its passage clearly disturbed Gil Horowiz, a retired psychologist, community activist, and president of the Two Fifth Avenue Association. "The board screwed us, sold us out," he told Grub on the street. "I knew coming in they were going to vote for it because they're very sensitive to the gay issue. I'm gay but I don't want this on my block," he added."It's not a gay issue. I'm for my community. We have families here." He claimed no one could ever accuse him of being homophobic. "I was arrested during the Stonewall riots. I'm a member of the Stonewall Democratic Club." Ah, democracy.
Earlier: CB2 Committee Denies Liquor Application for Iconic Gay Bar Over Fears of Smoking and 'Sex Acts in Doorways'