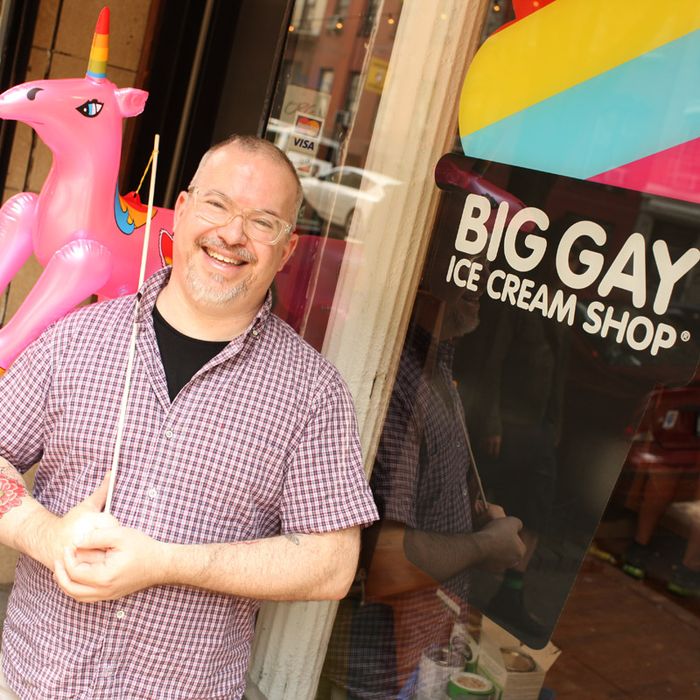 Bryan Petroff, outside the about-to-open Big Gay Ice Cream Store.
Photo: Melissa Hom
"I'm slowly venturing forth into being not the behind-the-scenes guy, so this is all a little new to me," Big Gay Ice Cream Truck owner Bryan Petroff says. Until now, Petroff has maintained a corporate job in addition to running the super-popular truck with his business (and life) partner Doug Quint. "I'm the man behind the curtain. But now that the shop is opening, I'm leaving corporate life to run the other side of the business." The "shop" is the new Big Gay Ice Cream Shop on East 7th Street that will open, "fingers crossed, at the end of the month," according to Petroff. Of course, even with all that going on, the pair still has time to eat out: "We were at Marco Canora's restaurant, Terroir" when the marriage-equality legislation passed, "and he was there at the time, so I locked him down. I was like, 'You're catering our wedding.' He's like, 'Just give me a date and I'll be there!'" For more excellent dining, and big gay tales of food truck adventures, read on in this week's New York Diet.
Friday, July 1
The organic vegans of the world are going to be upset that I started this with a bowl of Cap'n Crunch "Oops! All Berries" cereal. It's Cap'n Crunch's Crunchberries cereal with only the Crunchberries in them. None of the yellow corn stuff. We saw this in a grocery store and I just had to buy it. Growing up, I would purposefully only eat the crunchberries out of Cap'n Crunch cereal, so it had a nice nostalgia moment for me. I had to buy a box of it.
Usually I eat a later breakfast because I don't like eating really early in the morning. But I had to run down to the store on Friday, and we live way up in Washington Heights. It can take an hour to get there by subway. So I ate that, I took the train down, and I picked up a banana and a Diet Coke from the corner store.
I just needed a quick lunch because I had my first interview that day with a possible employee for the store, so I just ran across the street to Porchetta. I didn't want a heavy lunch, so I just got two sides: the roasted potatoes, with extra cracklings, which I always love to do, and a salad with cherry tomatoes, feta, red onion, and basil. I also got a lemonade from them, and I had them muddle some fresh basil into it.
I had some more Diet Coke after that in the afternoon. I do not drink coffee at all. I cannot stand the taste of it. I love the smell of it, but I hate the taste of it. It's a little difficult considering that we're looking for a coffee roaster to bring into the shop. I'm not really going to be taste-testing anything, and Doug will drink coffee, but he doesn't seek it out. Between the two of us, we have maybe a 50 percent interest in coffee. But I am a total Diet Coke addict. I drink it at breakfast; I drink it right before I fall asleep at night.
After my interview, I had to go to the truck in Union Square to meet with Doug. He had a Japanese film crew there. Friday was a huge, long line; probably one of our busiest days this year. So we worked until about 9 p.m. on the truck. Swung by the shop again, and by then we were really hungry for dinner. We didn't want to do Porchetta again, so we got lobster rolls from Luke's, and I also had a lime seltzer to drink. I ate it and Doug drove the truck up First Avenue. I was sitting on a milk crate, bouncing around. Sitting on a milk crate in the back of an ice cream truck bouncing up First Avenue is not an easy way to eat a lobster roll.
Saturday, July 2
Food-wise, I had Cascadian Farms organic raisin cinnamon granola with skim milk. It had Rice Krispies in it, which was kind of cheating.
We had an event down at Fort Hamilton army base. It was a free concert for a few thousand military families, and they invited us to be a part of it, which, we were shocked and amazed, but delighted. A mission of the army apparently is for the bases to be more in tune with the communities around them, and they saw us as a big part of New York City as a community, and with the repeal of "don't ask, don't tell" and everything, they thought it was an appropriate thing to do. We felt like Uncle Sam was asking us to do our part. It ended up being a wonderful day. Ne-Yo was the performer. I think he's an R&B; singer.
Doug took off for Fort Hamilton, but I took off in the car to pick up a friend of ours who was helping us down around Atlantic Avenue in Brooklyn. I got there pretty early, so I went to Bklyn Larder and picked up some picnic-y things that I thought we could share as we were setting up. While I was waiting for her, I had half of a salami, provolone, and hot pickles sandwich. It was good, but I will say this: The hot pickles were neither hot nor pickles. It was chopped up cauliflower, celery, carrots [Editor's note: If we're being technical, this is called giardiniera]. I was expecting real spicy garlic pickles, but it was still tasty. And then I had a little side of beets with parsley, green olives, capers, and orange zest. Those were good. I got other things as well — chicken salad, potato salad — but I didn't eat those. I just brought them with.
The event ran until around nine or ten; we did not eat anything throughout the event because of how busy we were. During events, people are always dropping off food for us from other food trucks. We appreciate the gesture for sure, but we just have no time to eat it. When it was over, I actually had a cheeseburger from Burger Bistro, which is down in Bay Ridge on Third Avenue. They were one of the other food vendors there, so I had one of their cheeseburgers with bacon and pickled jalapeños, and then we had some Coors Light as well. I got home, had two Chips Ahoy chocolate chip cookies, and went to bed.
Sunday, July 3
I wanted to cook. I hadn't made anything in quite a while, so I made us omelettes first thing in the morning. I make very simple omelettes: I cook mine in olive oil, and just do a little fleur de sel, cracked pepper, some red pepper flakes, and sautéed shallots. And I like having them be on the soft side so they're just nice and yellow.
I had some Simply Limeade from Oslo coffee, and then I had some of Doug's chocolate chip cookie from there. Sunday was a day off for us, which we had planned. Both of us had wanted to get new tattoos for quite a while, so we scheduled appointments together for the same day. We go to a woman named Emma, who lives upstate and comes in on the weekends and works out of a studio in Williamsburg.
We all got lunch with Emma and the rest of the people who were in the shop. They wanted to order from Saltie, but it was closed, so we settled on Crif Dogs. They would probably want you to know that it was not their first choice; Saltie was by far their first choice. I had a Crif dog with mustard and raw onions, and then a New Yorker with sauerkraut, and then I split some tater tots with everybody. And Diet Coke. You can assume that everything has Diet Coke attached to it.
That night we didn't get out of there until eight o'clock, and then we went to Lowe's in Gowanus and got some stuff that we needed there. Since we were around that area, we decided to stay down there for dinner. We ate at Franny's on Flatbush. We both really like Franny's, so if we're out in Brooklyn we try to get out there for dinner. I had a crostini with pancetta and ramp butter. Their pancetta crostinis are amazing; they're so greasy and salty. For an appetizer, I had this thing that was sugar snap peas and English peas with prosciutto di parma, and I have to say, I love Franny's but I hated it. It tasted like it didn't know if it wanted to be a hot dish or a cold dish, so it was room temperature, but it had butter in it, so it tasted like deli food. And then I had the meatball pizza for an entrée, and that was really good.
Monday, July 4
We were doing Macy's fireworks show down at Chelsea Piers. They got seven trucks or so to be there for what they called their "VIP Area" — I call it "Macy's 5,000 BFFs Who Were All Invited to Be There" — so it was a private area just for them. I had another bowl of granola and skim milk and some Diet Coke, and met Doug down in Chelsea at two o'clock. We got set up, and basically, we had time to kill, and Macy's seemed to have its own craft services set up. Free food for the employees and all the cops. So we sat under a tent, surrounded by 50 NYPD, and I had Macy's craft services cheeseburger, pasta with pesto and peas, and that was it. Let's just say they should stick to homewares.
We probably had the longest line, and we closed probably ten or fifteen minutes before the fireworks started, so we didn't eat anything until about 9:30. That's when we went back for the food that was dropped off for us. I ended up having some pork kabobs from Souvlaki GR, which are always really good. There was a Macy's food truck there, I think it was called Macy's A-Go-Go, and apparently Marc Forgione has a line of sausage, so I ended up having a bite or two of sausage sandwich. I had a spoonful of Dos Caminos guacamole, and that was it. And then I downed a bunch of water.
On the drive back, since it took forever after the fireworks, I actually had some of our own ice cream with peppermint syrup and chocolate sauce.
Tuesday, July 5
I had to be in an office in midtown all day. I quit my full-time job to run the shop, but I'm still putting in one or two days a week in that office, just to kind of transition out. So I was there, just doing an eight-hour day. I had an everything bagel from Zaro's, toasted with butter. Where I work, they have a full kitchen, so — I know bagel purists are going to hate this — I love my bagels toasted to as dark as possible, just shy of burned. Maybe a little char is fine. But they never do it dark enough there, so I always just get it to go and I do my toasting up in the office. Also, I don't like my butter to be melted, so I pretty much burn them, let them cool, and slather butter on them.
For lunch, I had Thai food from Royal Thai Cuisine on West 36th Street I actually think it's Royal Thai Cuisine II. I had chicken with basil sauce. I used to live in Chicago, and I feel like I got spoiled. Chicago has amazing Thai and Vietnamese food. This place is pretty good for what you get. I would recommend it. What I like about the chicken with basil sauce is that they put in some nice peppers. Not just bell peppers, but some hot peppers into it. And they also put zucchini, and they go pretty liberal with the fish sauce, so it's pretty tasty.
Doug didn't get home until late, like ten o'clock, and I was trying to hold out, dinner-wise, for him. When he got home, we ordered a pizza just from a local pizzeria place up in Washington Heights. There is no good pizza up in Washington Heights. We ordered from this place called Pizza Nova up on Dyckman, and it was a margherita pizza with pepperoni, and then we got a Caesar salad with the dressing on the side. And again, just like the bagels, I like my crust really crispy, and they can probably recite our order. We always ask them to do it well done or extra crispy. They never get it quite right, but that's okay. We're not expecting the best pizza.
Wednesday, July 6
We were actually really busy, and I ended up not having any breakfast, unfortunately. We were running late to get to the shop because I was doing a lot of paperwork, and then we had our awning go up. I ended up just running across the street for a late lunch around two o'clock, went to Porchetta again. This time I got a sandwich, and I got their cooking greens, and I added the cooking greens to the sandwich, so it was like a roast pork and bitter greens sandwich, almost like a Philly-style, I guess.
Dinner was at Mercadito in the East Village. We shared the guacamole sampler, beer-batter mahi mahi tacos, and rajas, which are roasted poblanos, onions, and cream. And I drank a three-citrus and habañero margarita. Whew!