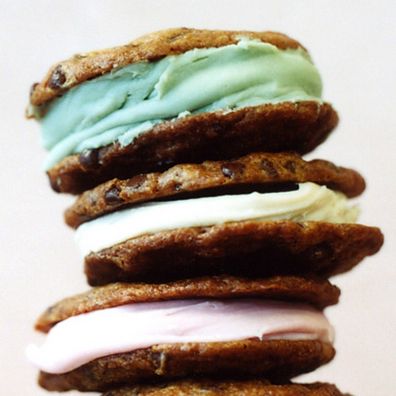 Headed to the Bronx.
Photo: Courtesy Babycakes NYC
Babycakes NYC's Erin McKenna tells us that starting this weekend, both her gluten-free, vegan frozen chocolate-chip-cookie sandwiches and brownie-cream sandwiches — each filled with vegan frosting, not drippy soft-serve — will officially be part of the menu lineup at Yankee Stadium's Legends Suite.
McKenna, an erstwhile Choco Taco connoisseur, says she found herself in talks with the stadium after a higher-up at MLB visited the Bronx for a game (BlueJays vs. Yankees, if you're wondering) and "flipped out" after trying a Babycakes brownie. A few conversations later, McKenna was invited to add some items to the notoriously fancy, all inclusive Legends Suite menu, where entry starts at $500 a seat. (If that news leaves you feeling a little priced out, have no fear: McKenna is also considering "expansion opportunities," including more general stadium coverage.)
But non-baseball fans can partake, too: McKenna also informed us that Babycakes fan Mindy Kaling will be handing out brownies and cookies when she tours this fall for her book, Is Everyone Hanging Out Without Me?, which drops right around the same time the World Series wraps up.