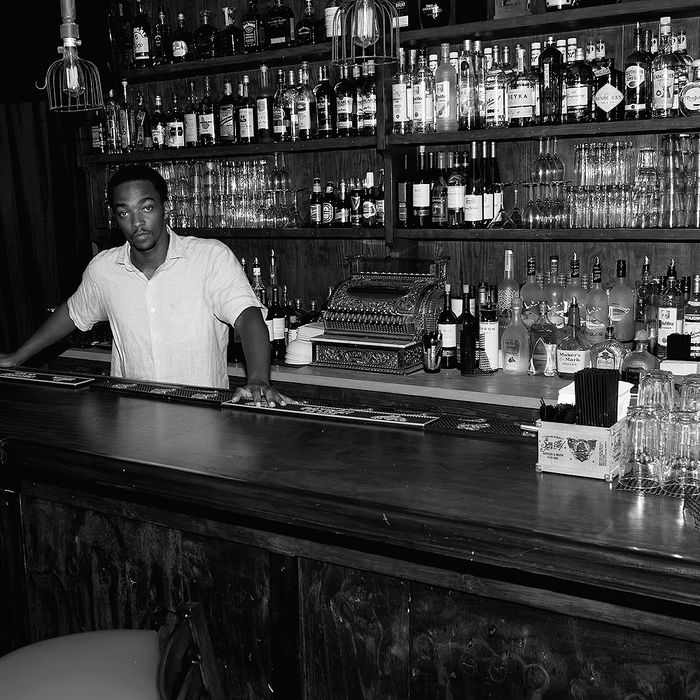 Mackie, at NoBar in Bed-Stuy.
When we heard that Anthony Mackie — star of movies like The Hurt Locker and The Adjustment Bureau — was planning to open his own bar, we thought about all of the other mediocre, nightclubby, celebrity-owned restaurants we go out of our way to avoid. But when we heard Mackie was planning to open NoBar on Nostrand Avenue in Bed-Stuy (as opposed to, say, the Meatpacking District), our interest was piqued. When we heard that he'd be serving as a chef and tending bar himself, we decided we had to get him on the phone. Straight off a plane from a film festival in Italy, Mackie spoke with Grub Street about NoBar, his devotion to Brooklyn, trading in red carpets for dirty dishes, and his newfound love of pastrami.
You were raised in New Orleans, coming from Rome, and living in Brooklyn — who has the best food?
In Italy, I was expecting more from the food. I'm actually kinda disappointed. The film festival people had us go to all these movie-star type places and that wasn't too impressive. They really like the buffet over there, don't they? The unpretentious places in the villages are probably better, but they wanted to keep it all fancy. You can't compare anything to New Orleans, so I'm going to go with Brooklyn for sure. Brooklyn is the best for everything. Once the dollar went down, Manhattan became Europe's playground, so now all my friends hang in Brooklyn.
 
Which means they will no doubt be hanging at NoBar.
That's right! It's a cool, cheap neighborhood hang. I don't want to see my friends trying to take a girl out, spending 100 bucks in some trendy place, and walking away hungry. This is the opposite of those multimillion dollar, basement nightclubs, filled with "who's who" type places. I hate those!
 
What makes your place so different from that?
For one, I'm the bartender and I'm the chef. I'm going to be bartending every night for the next week and a half, and then ongoing from there. I would make Tom Cruise very jealous. Cocktail, Top Gun, all those early movies from when he was a cool dude, he inspired me! And in the kitchen, it's 100 percent my recipes. I fucking love my food. Like, for my barbecue meatballs in pita-pockets, I do a blend of meat. I don't just do ground beef or ground turkey, and it's my own homemade barbecue sauce with honey, and other things I won't tell you. Oh, and yeah, it's five bucks.
 
Sounds like you're more into the grind of the food and drink business than the glamor of Hollywood these days.
I never thought of acting as my only goal or career. Acting is a business where your future is dictated to you by people you don't even know. With the bar, I can have relationships with people who I'm doing business with. That's the whole thing. It all has to do with me being a people person. I love hearing crazy shit. I always wanted to be a bartender but I knew that if I worked for someone else, I'd get fired.
Besides getting a drink made by you, what else is going on at NoBar?
We have "Red Bean Delight" on Monday nights; that's a New Orleans thing. Also, "Hump Day Wednesday." On Tuesday, you can order any drink on the menu as a shot, and then girls drink free on Thursday. That kind of thing. We have local artists on the walls, photography, and digital art. And I'm trying to do some play-reading series, too. Nelson George, who directed Life Support on HBO is going to do a reading.
 
What will you be drinking behind the bar?
I'm a whiskey man. Me and Jack Daniels have a long relationship with each other, with a lot of ups and downs. Eventually, our goal is to have all Brooklyn beers at the bar, too, which I'd really like to see.
 
Is it true you're already looking into a second place?
I'm thinking about it. I don't want to overextend … not trying to be like the American Apparel of bars. I love my neighborhood. I want to keep adding to it. A prohibition speakeasy would be the next plan.
 
Tell us your favorite Brooklyn spots?
Franklin Park is a little beer garden that's cool. Brooklyn Social for a drink, or just to chill. Black Swan is good. I eat a lot of local food. There's a brisket house down the street, David's Brisket House Deli, if you like corned beef and that kind of thing. It's off the wall. I went to Katz's with a group of friends, and brought them a sandwich from Dave's. I was like, "Gotta up y'all game … we got this on lock over at Dave's." Even the guy at Katz's was like, "Oh, yeah." I just starting eating … um … the best sandwich meat I've ever had … ohhh, what's it called …
 
Pastrami?
Pastrami! Yes! I just discovered it. I'm from New Orleans, we don't have that there! You love it, too?
 
I'm a Jew from New York. Of course I love it.
Well, I guess I'm a Jew from New Orleans now because, damn!