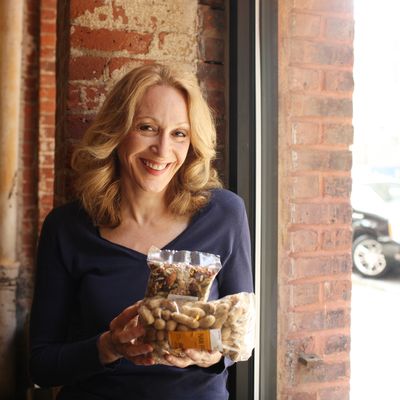 Jan Maxwell goes wild at the Nut Box.
Photo: Melissa Hom
"I love the celebration around food, the conversation around food, the company," explains Jan Maxwell. "But if I had my druthers, someone would invent meal pills that we could take all week and then on our day off, we would go to a five-star restaurant." You see, Maxwell has not had a day off in a while. She's been performing nights in Victory, a demanding, three-hour drama set in 1660s London, and rehearsing days for Follies, the Sondheim musical set to open in a week after a much-lauded run at the Kennedy Center in D.C. Victory closes this weekend, but the production team is hoping that Follies will run until December, so any potential break is still a long way off. What will she do then? "My parents have a place in Costa Rica, so I might just go there for a bit, because I feel like I might deserve a vacation." We'll say. In the meantime, read on for peaches, oranges, bananas, and lots and lots of peanuts.
Friday, July 22
Got up, determined to be on time to rehearsal for Follies, but of course, since I'm only a bit over a block away, I'm always fighting being late. There was nothing in the apartment to eat, so I made myself a cup of coffee with a shot of espresso and on my way to work stopped into Simply Natural, a health-food store in the Manhattan Plaza Health Club on 43rd Street, between Ninth and Tenth Avenues, and grabbed a banana. Then I ran down to Empire Coffee and Tea on 41st and Ninth to buy an iced coffee for work. I knew I only had an hour of dance rehearsal before lunch, so thought I could get by — I couldn't, and found some carrots on the snack table at work that I snarfed down.
For lunch break, I went home and had a peach that I had purchased the day before from the "truck lady" who parks on 43rd Street off Ninth a couple times a week with great produce. I would have had more, but I wanted to take another shower. It was crazy, those two days when it reached 104. Late afternoon on a break, I was starving, so I went to my favorite takeout place called Good and Plenty on West 43rd between Ninth and Tenth, and got a bit of Greek salad and some rice with veggies and black beans. I also got some gazpacho. Good and Plenty gazpacho is delicious — the only cold soup I'll eat.
At rehearsal later that afternoon, I got hungry, so I threw back some Goji Berry Blend that was in my bag that I got from the Nut Box in Chelsea Market. For a couple of months now, for some reason I've been craving nuts — especially peanuts — and seeds. And someone brought watermelon to rehearsal, so I had a bit of a field day with that.
That night I just had a few sips of the gazpacho and some peanuts. I didn't have a Victory performance that night, so there was no need to eat very much. Then I had another peach for a late-night snack while I was washing my rehearsal clothes. I'm also trying to keep my weight down, because I have to be in these costumes that are very, very skin tight. I've just been struggling with keeping my weight down but having enough energy to do the schedule that I have these days. I've always been on some sort of diet. The only thing that has really stuck for a couple of years now is that I'm gluten-free and a pescetarian with vegan aspirations. I've always wanted to be a vegetarian. I just feel like, now that I'm vegetarian, I don't have to work as hard.
Saturday, July 23
Grabbed another "truck lady" peach and some coffee and ran to Follies rehearsal. Had an hour of tap dancing.
Came home, showered, and had a bowl of Udi's gluten-free granola with Chobani yogurt, blueberries, and goji berries. Needed something substantial as I had four hours of dance scheduled for that afternoon.
Arrived home completely drenched from dancing and took yet another shower. Then I rested, did a line-through of the play, and fixed myself a Boca Burger on a gluten-free Udi's hamburger topped with grape tomatoes, pickles from the pickle man who's on 43rd Street on Saturdays, plus a Kirby cucumber and an ear of corn I picked up from the farmers' market on 43rd Street. Then I headed down to 16th Street and the Atlantic Theatre for an eight o'clock performance of Victory, but first stopped into the Chelsea Market Nut Box where I loaded up on peanuts and got some dried mango strips — we use them for "cockles" in the play — and dark-chocolate-covered almonds for the cast and crew at the theater.
After the performance, my brother Richard, sister-in-law Tory, and husband, Rob, who is in Victory with me, went to the restaurant West Bank on 42nd and Ninth. I had a Caesar salad and split an order of French fries with my brother. Did I mention the martini? It was a very long day. I wobbled home and fell into bed.
Sunday, July 24
Started the day with two cups of coffee and shelled myself about 30 peanuts, then waited to have some yogurt and granola with bananas and goji berries until around one o'clock because I had a matinee of Victory at 2:30 p.m., and I wanted the food to get me through the play. The director, John Doyle, was at the matinee, and so afterward we walked over to VYNL on Eight Avenue and 15th Street for some dinner and catching up. I was hungry and had the vegetarian nachos with a simple iced tea. I shamelessly stuffed myself and loved every minute of it.
Monday, July 25
Again, had rehearsal at 10 a.m. for Follies. Character work for a couple of hours, then dance for three hours. Pretty much hit a wall of exhaustion today. Could not snap out of feeling spent.
I threw some coffee down me in the morning, grabbed a handful of grape tomatoes, and ran out the door. When I got to rehearsal, I ate some carrots and noshed on Healthy Heart Mix that I brought in from Nut Box in the morning. I didn't think I would need more than that because I was to have time off in the afternoon to eat something more substantial. But then it turned out there was a scheduling mix-up and I had very little time off before the dance rehearsal. I ran home, changed clothes, and cracked as many peanuts as I could, feeling like a human squirrel, ate a banana, and went back. On the way, I stopped at Starbucks and got an iced coffee with soy milk. I left rehearsal covered in sweat, and then remembered I was supposed to be at a seven o'clock curtain of the opening night at Second Stage of Zach Braff's play called All New People. My husband had made some brown rice, green beans, and corn on the cob, and I took a shower, ate a little of the dinner, and we ran to the theater. I came home hungry and had an apple and Cheddar cheese snack before turning in.
Tuesday, July 26
I was running late, as usual, so I grabbed a banana and orange and left for Follies rehearsal. I wanted to wait until lunch to eat something substantial as we were having our first run-through in the afternoon.
For lunch, I ran over to Green Symphony, a wonderful health food takeout place on 43rd Street between Eighth and Broadway. It's the best kept secret of the theater district — such great food. I filled up a container with kale salad, beet salad, and wild rice. Then I went home, changed clothes, and ran back to Follies. After the run-through, I went home, laid down for twenty minutes, grabbed half an apple, a banana, and some peanuts — I need an intervention on the peanut addiction — for dinner and then ran down to the Atlantic Theatre to perform Victory. Doug Keston, a wonderful man and my husband's agent, came to the show and afterward, we went to Flight 151, a bar-restaurant and Victory cast hangout, for some nosh and a margarita. It's like a sweet lemonade. I'm the kind of person that, if you disguise the booze, I can drink it.
Wednesday, July 27
In the morning, I had the same coffee with a shot of espresso, grabbed an orange, and ran to work.
Then for lunch I came home. I had to do a voice-over audition — this is so boring! — I had some peanuts, and I stopped at Good and Plenty and got some tuna salad and a little Greek salad and ate that. Then I had an iced coffee.
I'm going to go downtown to see Territories at the same theater I do Victory at, because we're in rep with Territories. And then afterwards the plan is to go out to eat. Thursday I don't have rehearsal until five, so I'm feeling like I have a huge vacation right now.