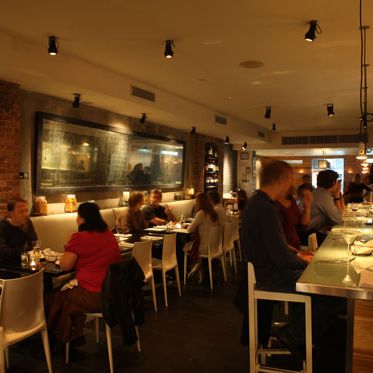 Coining one new word for two proven trends.
Photo: Melissa Hom
Three-year-old Mediterranean restaurant 508 on Greenwich Street is now brewing and serving its own beer, reports Zagat. "I wanted to be a brewer when I was about 18 and still living in Brazil," chef-owner Anderson Sant'anna de Lima tells Grub Street. "But at the time, you had to get the equivalent of a masters degree in engineering." When Sant'anna de Lima came to New York in 1995 for college, he made some experimental, dorm-room-style beverages, but it wasn't until recently that his wife bought him a home kit and he started thinking about seriously brewing.
Now he can't stop, though he says he's running out of counter space. Lucky for him, he can unload some of that product, as the restaurant has entered its new beery phase by serving seven house brews, including a porter and a hefeweizen, which range from $6 to 8 per pint. While it has kept its wine list in place, a rep from the restaurant tells us that Sant'anna de Lima is scouting locations in Manhattan and Brooklyn to find more room to brew. The plan is for 508 to bottle its beer — and open another location.