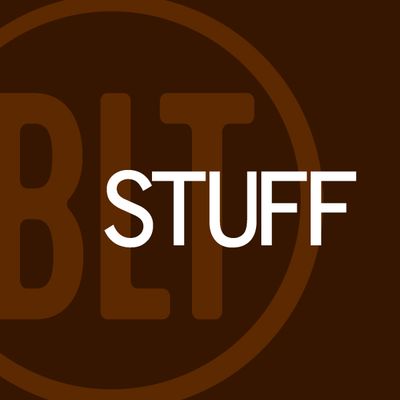 If the whole idea of BLT Restaurant Group carrying on without embattled chef Laurent Tourondel has made you too confused to really enjoy your popovers, the happy news comes that the French chef re-won the rights to his own name. While his former business partner, Jimmy Haber, still controls the more than twenty existing BLT restaurants in nearly a dozen cities, LT is free to open restaurants with BLT in the name going forward. He's reportedly already planning a brasserie for Manhattan! However, he can't use any of the same recipes or concepts as the existing places, which means his creative team had better get to work. Below, as a service to him and to his future customers, we've put together a press release of names and concepts to help them get started.
BLT Choice: Instead of BLT Prime, why not try this more affordable option? This 24-hour buffet eliminates the trappings of finer establishments and, in doing so, revolutionizes the concept of "all you can eat." In a dark, cavernous warehouse, steam trays full of USDA Choice meat (which is so close to Prime that it's, like, indistinguishable) will be served alongside a variety of all-American condiments: ketchup, Cheez Whiz, and ranch dressing.
BLT Cow: The steakhouse is a classic all-American concept, but why limit the kitchen to using only steak? At BLT cow, chef Laurent Tourondel will specialize in tripe, marrow, brains, and, of course, cow patties (as in, the chocolate dessert; not the other kind of cow patty).
BLT Banker: Finally, a restaurant for the truly discerning dining connoisseur who might also happen to not actually know about food, but has access to a killer expense account. In a dining room 800 feet in the air in Frank Gehry's Spruce Tower, all steaks and single-malt Scotches will receive an 8,000 percent mark-up, and martinis will cost a minimum of $42 apiece. And we haven't forgotten about the ladies: Guys will be able to flash more cash by ordering $37 dressing-less "market" salads and $18 celery sticks for their dates.
BLT Wieners: High-tech ordering kiosks will double as hubs for sending photos of questionable taste while you wait for you order. Concept fills the current void in hot-dog-focused restaurants geared toward dudes who like tweeting pictures of their junk.
BLT Stuff: A natural extension of the tried and true BLT naming convention, this latest addition to the BLT empire throws customers a curveball with its vagueness. What "stuff" will be on the menu the night you dine? The only way to find out is by showing up.
BLT BLTs: It's almost surprising that celebrity chef Laurent Tourondel has never made this obvious jump with the BLT Empire. Well, that oversight will be corrected with this restaurant, serving 80 variations on the same, signature sandwich.
Chef Tourondel wins rights to BLT name [Crain's]