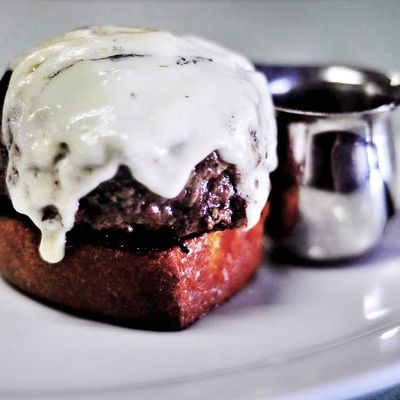 The "Royale" at Poole's Diner in Raleigh.
Photo: Matthew Fern
Each week on the Food Chain, we ask a chef to describe a dish he or she recently enjoyed. The chef who prepared the dish responds and then picks his or her own memorable meal. On and on it goes. Last time, Oleana chef Ana Sortun had her socks knocked off by the txipiron encebollado at Txikito in New York. Now, we want to know Txikito chef Alex Raij's most memorable recent bite. Alex?
Who: Alex Raij, chef of Txikito in New York
What: The "Royale"
Where: Poole's Diner, Raleigh, North Carolina
"There's this place in Raleigh, North Carolina: Poole's Diner. It's a kind of refurbished luncheonette. Basically, everything [chef-owner Ashley Christensen] makes is really amazing. She has one thing that's over-the-top delicious. It's called a "Royale" and it's like a giant burger. It's like in Spain what we call bistecca Russa. It's a ball; it's not flat at all. It's rolled in pepper and then she cooks it in duck fat. And it's cooked perfectly; it's pink inside. She puts cheese on it, and she serves it with almost like a demi-glace on the side: a little bit of beef-and-red-wine jus that you pour over it. And it's kind of like a patty melt; it doesn't have a bun. It's this kind of high-end thing in this shabby-chic luncheonette."
Poole's Diner chef-owner Ashley Christensen responds:
"The 'Royale' is a ten-ounce, 100 percent chuck burger, ground daily in house from Painted Hills beef in Oregon. We roll the burger in toasted tellicherry peppercorn and sear it in rendered duck fat. It's served on a slice of grilled, housemade brioche. The cheese selection changes. It is currently Mobay, from Carr Valley in Wisconsin; Mobay is their take on Morbier. Mobay features a layer of sheep's-milk cheese and a layer of goat's-milk cheese divided by a thin line of grapevine ash. We serve the Royale with a tiny pitcher of red-wine-shallot-beef jus. It has been on the menu since the day we opened.
Because we're in an old diner, I thought it would be fun to do something that has a diner association but is executed at the highest level possible. It's a Pulp Fiction riff, the 'Royale with cheese.' And then we're making the cheese something that would be cheese-board-quality cheese."