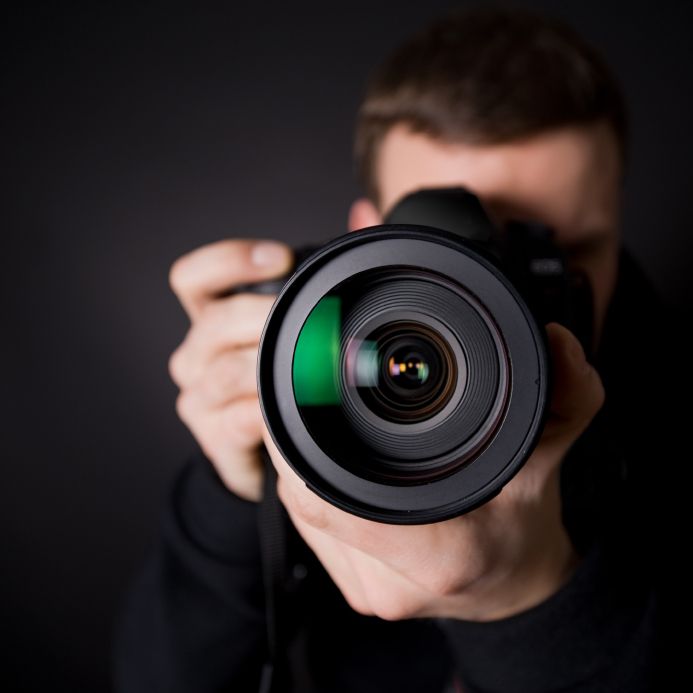 "The light on this radish is amazing."
Photo: iStockphoto
Distractions at restaurants are everywhere: cell phones, of course; overly chatty customers at a too-close table; and, increasingly, someone in the restaurant photographing the food at their table. Shutter snaps and flash pops never make a meal taste better. Some restaurants, like Momofuku Ko and Chef's Table at Brooklyn Fare, do ban the practice, but others embrace the idea of diners turning dinner into their own personal photo shoot. I bring this up not to proselytize, but instead to call attention to this irritant and to set up a few ground rules that we can hopefully all agree with in order to minimize our impact on others.
When I asked César Ramirez, chef at Chef's Table at Brooklyn Fare, about it, he told me that the whole concept confounds him: "What happened to the days when people went to a restaurant and just had a good time?" He's taken a lot of flack for the photography ban he instituted at his restaurant, but explains that he had two reasons for doing so: The first is that it's annoying both for him, and for other diners, if a customer is snapping shots of the eighteen courses served at the restaurant. His second reason surprised me: Photos floating around the web will ruin the element of surprise for his customers, most of whom make their reservations six weeks out.
Beyond wanting to control the image of the restaurant (no kitchen wants to see its carefully plated, innovative dishes become dark, murky images circulating the web the next day), there's also the issue of diner comfort. Restaurants aren't interested in having their guests blinded by successive flashes, or jostled by a diner at the next table who has spent the last five minutes perfecting the jaunty tilt of her hamburger bun.

And so Ramirez isn't alone in dealing with the issue by simply banning customer photography. As I said, David Chang's Momofuku Ko has also instituted a ban on photos, Alinea forbids flashes and tripods, and Corton forbids its guests from using flashes. But these restaurants are actually the exceptions. (It isn't a coincidence that the places that have taken a stand against cameras are the ones least in need of the press.) New York's Ai Fiori, for example, has no official photography policy, but general manager John Paulus says that he keeps an eye on picture-taking and will intervene when the photographs include other guests or staff. "It doesn't go unnoticed on our part," Paulus told me, and the staff will alert the kitchen on the grounds that the photographer may review the restaurant in some form. The reality is that, in a tough business and a shaky economy, most restaurants welcome the enthusiasm and the publicity.
But whatever the actual rules are at a given restaurant, this is really a question of etiquette that's here to stay — especially as cell-phone cameras improve. So we should figure out some ground rules of our own.
Matt Armendariz, of the nicely photographed Matt Bites and author of On a Stick, says that taking pictures in restaurants doesn't have to mean inconveniencing fellow customers. "It can be done well and can be done poorly," he says, and by that he means picture quality as well as the manner in which the photos are taken. His tips for doing both well are to go early so as to disturb fewer people, ask to sit near a window for good lighting, and don't to be afraid to contact the restaurant beforehand: "People would be surprised to see how accommodating restaurants can be, if you're just really there to celebrate their food."
Of course, calling ahead isn't an option for someone hoping to review the experience anonymously. But let's say that the photographer is careful to turn off the flash and not to disturb others — why is taking pictures during a meal still such an irksome activity for some fellow diners?
In many ways, it's not unlike the debate over cell phones in restaurants. In a new book called Annoying: the Science of What Bugs Us, Joe Palca and Flora Lichtman discuss the cell-phone problem. Research indicates that listening to people's cell-phone conversations bugs us not because the volume is different than an in-person conversation, but because we are programmed to fill in the blanks — we are in an "information-seeking, prediction-loving cognitive system." Might this same explanation be used in a visual context? Perhaps it is not only the jarring flash, but the act of taking pictures itself that distracts, and therefore annoys, fellow diners. We see a camera and our instinct is to find the object of the lens.
I'd like to propose another explanation for guest irritation: technological burnout. I know I am not alone in being interrupted all day by phone calls, text messages, and incoming e-mails. On the occasions that I manage to sneak out to a restaurant, I just want a glass of wine, something delicious to eat, a little eye contact, enough time to just enjoy myself — all fleeting, and all hard to quantify, document, or post to a Flickr page.
So this is all a good start for the would-be Ditte Isagers of the world: turn off the flash, request photos from the restaurant when possible, shoot as far away from other guests as space allows, and make any necessary table-side photos quick and subtle.
And let's add one final guideline: If you aren't planning on writing about your dining experience and are instead just going to upload your food photos to Facebook so that your tenth-grade lab partner can "Like" them, consider not taking the shots. Instead, enjoy your dinner, enjoy your company, and then tweet about it on the way home.
Phoebe Damrosch is the author of Service Included: Four-Star Secrets of an Eavesdropping Waiter.