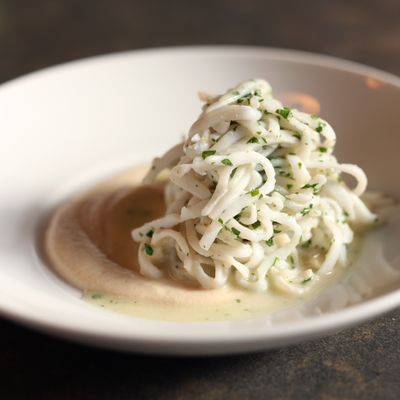 The txipiron encebollado at Txikito.
Photo: Melissa Hom.
Each week on the Food Chain, we ask a chef to describe a dish he or she recently enjoyed. The chef who prepared the dish responds and then picks his or her own memorable meal. On and on it goes. Last time, Blue Hill at Stone Barns chef Dan Barber found the spinach falafel at Oleana in Boston to be "hauntingly delicious." Now we're wondering what's tickled the fancy of Oleana chef Ana Sortun. Take it away, Ana.
Who: Ana Sortun, chef of Oleana in Cambridge, Massachusetts
What: Txipiron encebollado (squid ribbons à la plantxa with sweet onion and pine nuts)
Where: Txikito, New York
"The dish is simple. Sublime. Beautiful flavor and texture. It wasn't the first thing I ordered there, but it just knocked my socks off. They looked so simple and tasted so divine. They melted in your mouth. The dish was so balanced!"
Txikito chef Alex Raij responds:
"The squid is cleaned and opened: We take the bodies and slice them and clean them. Then we open them up so they're like a big triangle and we slice them so they look kind of like pasta. Separately we make a sauce that's based on cooking down lots of onions; it's very sweet. There's nothing except onions and pine nuts. You get this rich, sweet sauce that's served underneath the squid ribbons, with a little bit of lemon juice. There are really only three ingredients, or four.
What's so beautiful about the dish is that it's the best expression of our personal style. It's our take on a very traditional Basque dish. Traditionally, the squid would be cut in rings, or whole and braised with onions for a very long time. So it's kind of heavy and stogy, it's not refined, even though it's a very delicious dish. Our take — I wouldn't even call it deconstructed, it's just reimagined. We get local squid, so it's really fresh. The pine nuts aren't authentic at all. But it's very austere; it has a lot of elegance; it's white on white, like a white dress. It kind of looks like seashells and sand."