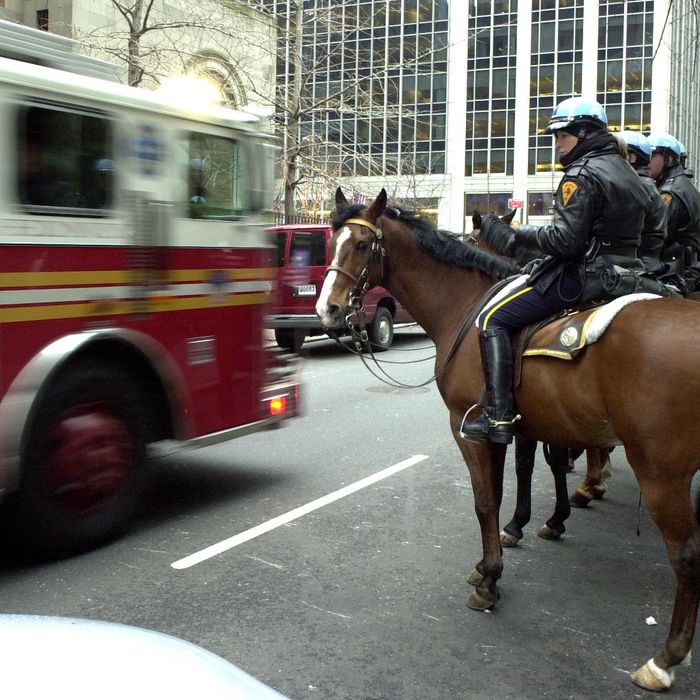 This might soon be a familiar sight on Rivington.
Photo: JOHN MOTTERN/AFP/Getty Images
As a long, hot summer looms for young and restless LES pub crawlers, the 7th Precinct appears prepared to summon cops from the NYPD's mounted police unit for crowd control on weekends, according to the precinct's commanding officer, Deputy Inspector Nancy Barry. In response to a question from Grub Street during a community council meeting last night, Barry said that officers on the cabaret patrol may bring in heat on horseback "as the need arises" in Manhattan's premier nightlife destination.
Barry cited crime stats in the precinct over the last 28 days but said nothing about the ongoing police crackdown of LES bars cited for underage drinking. She said there had been a 6 percent decline in major crime during that period — with the notable exception of an execution-style shooting on Pitt Street of a 23-year-old Brooklyn man early Tuesday in what she described as a "targeted hit." (The killers are still at large.) Barry seemed to believe that residents had no need to be "alarmed" by the murder, noting that the most common crimes in the precinct are robberies large and small, some at bars and restaurants by perps traveling in twos and threes and "creating distractions" so they can snatch things like cell phones and purses.

Manhattan district attorney Cyrus R. Vance Jr. said earlier in the week that bars are "hot spots" for theft of patrons' personal belongings and "violent crime" after he spoke briefly at the 9th Precinct's community-council meeting on East 5th Street. Vance said David O'Keefe, chief of the D.A.'s crime strategies unit, was working with the 9th's cabaret cops to identify suspects. O'Keefe told us that bartenders, like barbers and doormen, can be excellent sources of information leading to arrests. He should know: Heathers bar on East 13th Street provided the D.A.'s office with crucial street video surveillance of two 9th Precinct police officers returning to a drunken woman's apartment above the bar. The notorious pair — Kenneth Moreno and Franklin Mata — were later charged and then acquitted of rape and burglary. Both were fired from the NYPD for official misconduct soon after their trial ended last month.