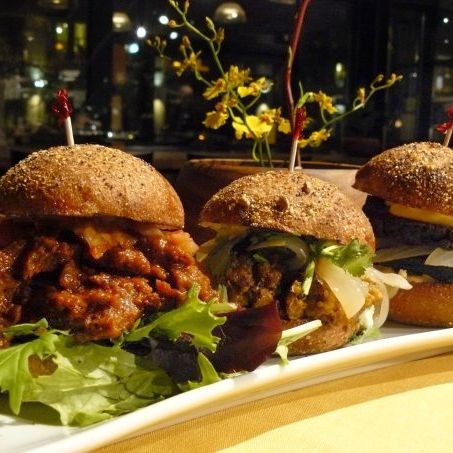 Chef Ayinde Howell's vegan sliders.
Photo: Courtesy of I Eat Grass
Even pets increasingly have lots of vegan options, but the pop-up trend (with its largely set meals) is one realm that's generally not too friendly to the meatless. That'll change next weekend, when vegan chef Ayinde Howell opens Wildflower, a vegan pop-up happening at LTO June 10 through 12. Howell, who has worked as executive chef at Jivamukti Yoga School and cooked for famous vegan Russell Simmons, will serve three dinners and two brunches, including a six-course southern supper featuring his dairy-free "Mac & Yease" and a seitan brisket; a Sunday waffle brunch; and a street-food-favorites dinner (where you can sample the sliders pictured here). Meals range from $30 to $85, and there's a $150 pass for the whole thing if you're eschewing animal products and are really sick of seitan nuggets. Tickets here.