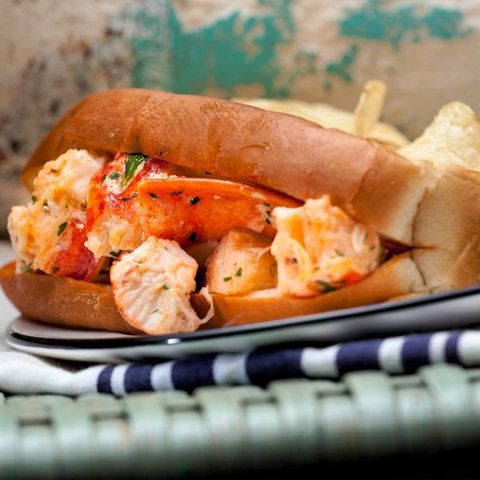 Photo: Courtesy of Lots O' Lobstah
Luke's Lobster will open its financial district location at 26 South William Street tomorrow morning (we're told the twenty-seat space will have a "lobster roll express window" that opens onto the street for lunch crowds!), and believe it or not, that might not be the most exciting lobster news we have for you today. That's because Elena Scotti, a former advertising entrepreneur who got to know the lobstermen of Mount Desert Island, Maine, while she ran a community center there for three years, has started Lots O' Lobstah (LOL for short). You may indeed be tempted to laugh out loud at the fact that she's selling her rolls at city street fairs along with gyro and sausage vendors like this clown, but Scott is truly serious about giving New Yorkers a "fresh, truly direct-from-the-sea product." So serious that she's having a small pound in Mount Desert Island ship lobsters to her overnight, so she can stuff split-top buns (also from Maine) with a mix of claw, knuckle, and tail meat. At $15, she says her rolls are cheaper than they are at her supplier's place up north.

Not only that, but in addition to the cold, mayo-slathered variety (no hot butter here), she's experimenting with a "spicy New York City" roll that's sprinkled with chives and celery rather than parsley, plus another that's dressed with vinaigrette. Ultimately, Scotti is hoping to be chosen as a Parks concessionaire. She tells us she's "not that crazy about the food truck craze because of the pollution levels," and adds that her M.O. will be "much more low-key and higher quality." For the moment, that means weekend street fairs — this Sunday, she'll be on Third Avenue between 16th and 17th Streets from 11 a.m. till 4 p.m., and next Saturday she'll be at Broadway between Prince and Spring Streets. After that, you can keep up with Lots O' Lobstah via Facebook.