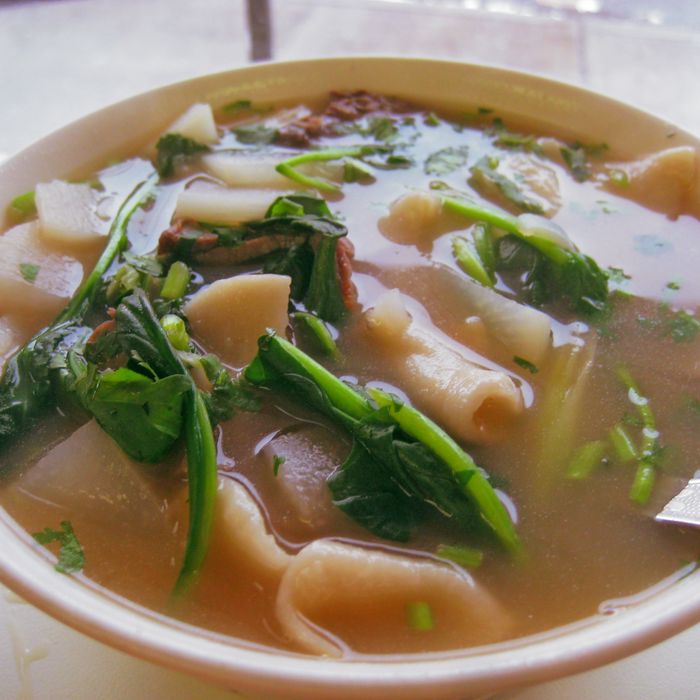 The thentuk from Tibetan restaurant Lali Guras.
Photo: Jeff Orlick
The stretch of 74th Street between Roosevelt and 37th Avenues in Jackson Heights is often referred to as Little India. But given the recent influx of Tibetan and Nepalese restaurants — there are now at least a dozen of them in the area, including Tibetan Mobile, a space-challenged cell-phone store with an equally tiny five-item kitchen in back — means it might be time for a name change. We're thinking Little Tibet, though Himalayan Heights has a nice ring to it. In any event, if it's been a few years since you've gotten off at the Jackson Heights subway stop, you might want to check it out.
First some basics on Tibetan cuisine: Thanks to possession by China, many dishes take influence from that country. Thenthuk, the brothy shaved-noodle soup, and thukpa, its long-noodled cousin, are two staples, liberally spiced with garlic and onions, and studded with different meats and leafy greens. Most places offer chow mein, too, but it's best to skip this, since, where we've tasted it, it's no different than the widely available Chinese stuff. More interesting is the Tibetan national drink, butter tea, where the region's absence of sweeteners and abundance of yak are made most apparent. Instead of sugar, salt is used — along with generous amounts of butter. Let's just say it's an, um, acquired taste for most Americans. More pleasing, and just as ubiquitous, are Tibetan dumplings called momos, heftier versions of their Chinese cousins, always served with at least one tomato-based, mouth-numbingly hot chile sauce.
As for where to actually eat, the neighborhood's latest Himalayan outpost, Zomsa, opened in late April. There's thukpa, as well as an almost-maroon chile chicken. (Picky eaters be warned: The "sausage" that's simply listed on the menu is actually blood sausage — though it is mighty delicious.) Another must-order is the "twisted roll," which is actually Tingmo, an extremely popular Tibetan steamed bun.
Only a week older than Zomsa is Phayul, a second-floor restaurant located a few blocks from Zomsa. Owner Dawa Lhamo, who worked previously as a sushi chef in Rhode Island, says her menu is straight-up Tibetan (as opposed to having Nepalese or Indian leanings). From the kitchen, Lhamo's mother peers at diners through the stacks of pans while she cooks, and guests are encouraged to use a wireless keyboard to play their choice of music on a YouTube monitor. One house specialty is tsak sha la kor hot, explained as "beef with radish with Tibetan moutain herbs." Strips of beef arrive in a deeply flavored bone-broth soup, accented with greens that are faintly reminiscent of cilantro.
Of course, these are just the newest offerings. There is also Himalayan Yak (opened in 2005) and Shangri-La Express, a momo cart turned restaurant. And as more Tibetans arrive in the area — temples and Tibetan community centers are in the works — the number of restaurants is sure to grow even more. Meaning Little Tibet might even soon be not that little.
Zomsa, 72-19 Roosevelt Ave., nr. 72nd St., Jackson Heights; 718-507-2452
Phayul Restaurant, 37-65 74th St., 2nd. fl., at 37th Rd. (entrance at 74–04 37th Rd., nr. 74th St.), Jackson Heights; 718-424-1869
Himalayan Yak, 72–20 Roosevelt Ave., nr. 73rd St., Jackson Heights; 718-779-1119
Shangri-La Express Dumpling & Curry House, 72–24 Roosevelt Ave., nr. 73rd St., Jackson Heights; 347-951-6300
Lali Guras, 37–63 76th St., at 37th Rd., Jackson Heights; 718-424-0017