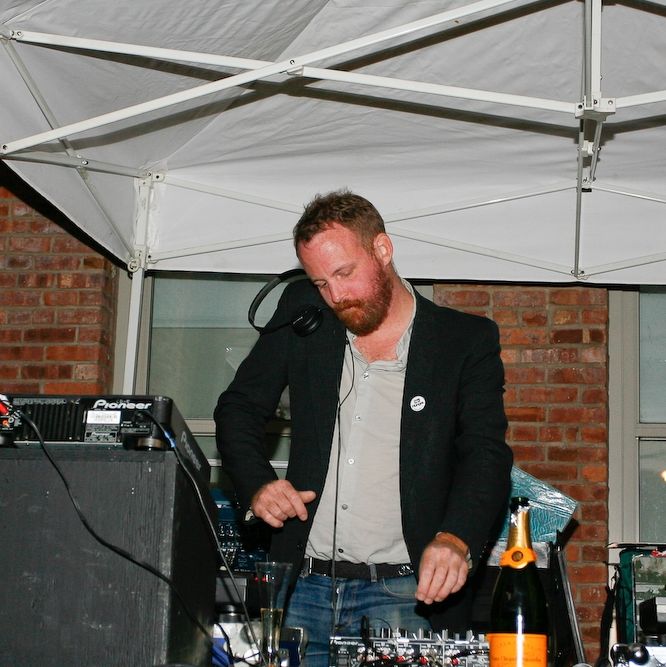 Pat Mahoney of LCD last year.
Photo: Courtesy of Le Fooding
Le Fooding, the roving French festival that celebrates the food world's enfants terribles, will return in late September in a big way: New York project manager Anna Polonsky tells us the first event, on September 17, will be an outdoor concert at Elizabeth Street Gallery. "The idea is that the food is really bad at music concerts and at the same time, when you go to really good restaurants, it's sometimes not so fun," Polonsky tells us. The bands have yet to be confirmed (Thurston Moore has expressed interest), but one thing's for sure: You'll see Nancy Whang on the decks while her former LCD Soundsystem bandmate and noted foodie James Murphy cooks a dish alongside "rock-star chef" Inaki Aizpitarte of Le Chateaubriand in Paris. There'll be Van Leeuwen ice cream, as well as cocktails from Richard Boccato and Sasha Petraske. Meanwhile, the second event, a so-called "pop-up table d'hote," promises to be epic.
Polonsky tells us the pop-up dinner at the Honey Space (a Chelsea exhibition venue that will be outfitted with a communal table) will be a continuous 48-hour affair going from September 23 at 8 p.m. to September 25 at midnight, with fourteen chefs trading off four-hour shifts. The feast will kick off with Andrew Carmellini and Hugue Dufour, and then, à la French surrealists' "exquisite corpse" method, "every chef will have to do a little bit of the former chef's menu," says Polonsky. So who are the chefs? Confirmed so far is an international roster that includes Kobe Desramaults (In de Wulf, Belgium), Armand Arnal (La Chassagnette, France), Sat Bains (Restaurant Sat Bains, U.K.), Blaine Wetzel (Willows Inn, San Juan Islands, Washington), Fulvio Pierangelini (Hotel de Russie, Italy), Brooks Headley (Del Posto), Mauro Colagreco (Le Mirazur, France), Adeline Grattard (Yam'Tcha, France), Corey Lee (Benu, San Francisco), and Massimo Bottura (Osteria Francescana, Italy).
Tickets will go on sale sometime in August. Four-hundred of them will be released at $75 to $100 for the concert (the price hasn't yet been set) and 40 $100 tickets will be available for each four-course seating at the pop-up (that price includes half a bottle of Veuve Clicquot).