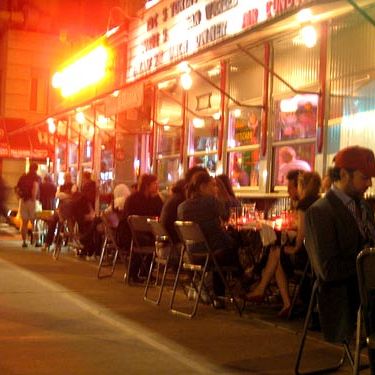 Over the weekend, What Happens When closed its doors months before the pop-up was supposed to, its problems stemming, at least in part, from a revoked liquor license. Now the area's community board — CB2 — is hoping to get another licensee to go dry: La Esquina. Last week, CB2 voted unanimously to adopt a resolution by its SLA committee to deny renewal of the Mexican spot's liquor license. But when we stopped in this weekend, nobody at La Esquina much seemed to mind.
The restaurant was crowded late Saturday afternoon as patrons stood in line to order takeout, and others waited to enter the cellar bar and dining area on LaFayette in Nolita.
"This is my first time here and it's fantastic. I definitely want to come back," said Joshua Kirshen, who lives in Chelsea. Kirshen and his two buddies said it would be "a shame" if the New York State Liquor Authority, which has the final say on renewing licenses, backed the Community Board's ruling against La Esquina, thereby putting it at risk for closing.
Georgette Fleischer, La Esquina's most persistent critic since its opening in 2005, told the full CB2 board that it was a "celebrity hot spot that takes up an entire block" and had racked up 64 health violations. She noted that the restaurant was shut down three times by city agencies, most recently by the Department of Buildings last year.
Fleischer lives kitty corner from La Esquina on Cleveland Place, in an apartment above Mexican Radio, and according to Mexican Radio's manager Jon Petrow, Fleischer has "never" complained about its operation in the eleven years that the establishment has been serving food and liquor. "There's no history of a contentious relationship," he said, noting that might be because his restaurant closes earlier than La Esquina. Petrow, however, said he felt bad for his high-volume competitor, which has 100 employees. He acknowledged La Esquina could go out of business if the restaurant lost its liquor license, which covers the sidewalk café.
But speculations about La Esquina's impending demise in Manhattan are premature, said co-owner Derek Sanders, who told us that he expects to prevail with the New York State Liquor Authority over CB2's efforts to turn his eatery dry. "If you look at the community board from last month, there were fourteen applications, and they rejected all of them and they recommended zero," he said. "The SLA's criteria is different. We are a legal business. We pay all of our taxes. The Community Board's agenda is more motivated around groups and crowds. The SLA will listen, but won't approve a license over quality of life complaints."
He said his team had either "disproven" Georgette Fleischer's complaints, "or [they have] cured them. Sanders told Grub Street that he's "going to continue meeting with City Council member Margaret Chin and [Fleischer's] group." Fleischer, for her part, told us over the telephone that she could offer no further comment.
Earlier: Neighbors Accuse La Esquina of 'Unsavory Conditions,' Try to Block Liquor Renewal