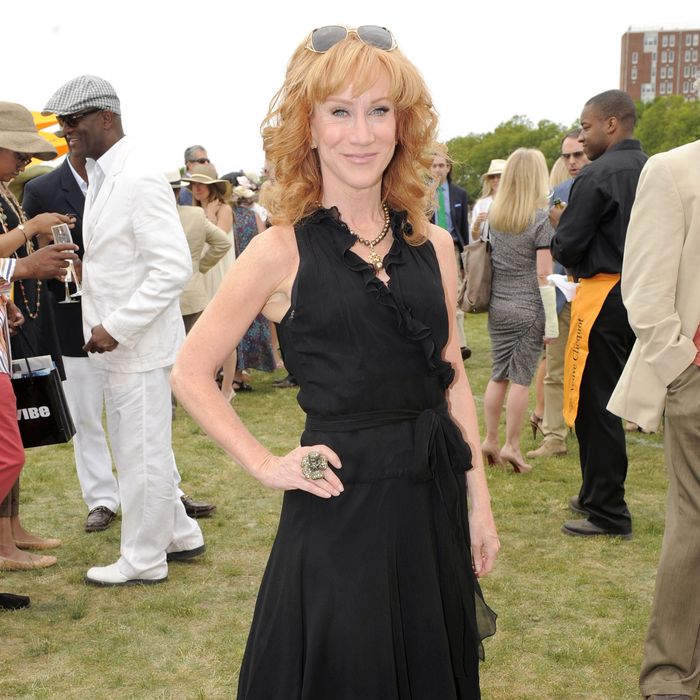 Photo: Nicholas Hunt / Patrick McMullan
When we approached Kathy Griffin at yesterday's Veuve Clicquot Polo Classic on Governors Island, the quail-egg hors d'oeuvres going around had her thinking: "I would have scrambled them," she told us. "You know, if I were preparing the food." Jokes aside, she's quick to admit that she's not actually a good cook, but she has some famous friends who know how to work the kitchen.
"Last weekend I stayed at Paula Deen's house," Griffin told us. "It was heaven; she cooked for four days." Wait, she and Paula Deen hang out? "We're buds," she said. "I'm like her secret friend she's embarrassed to know — I have a lot of friends like that."
As for other chef encounters, she tells us, "Rachael Ray cooked for me. I was doing a Broadway run a couple of months ago, and my eating was all out of whack and I just wasn't eating enough or at the right time or whatever, and I go back to my room one night, and Rach sent me a whole thing of freakin' baked, homemade mac and cheese. And you know it was the good shit." We wonder what polo player Nacho Figueras, who started the Veuve Clicquot Polo Classic, and who just last week told us that the St. Regis had the "best mac and cheese in town," would have to say about that.