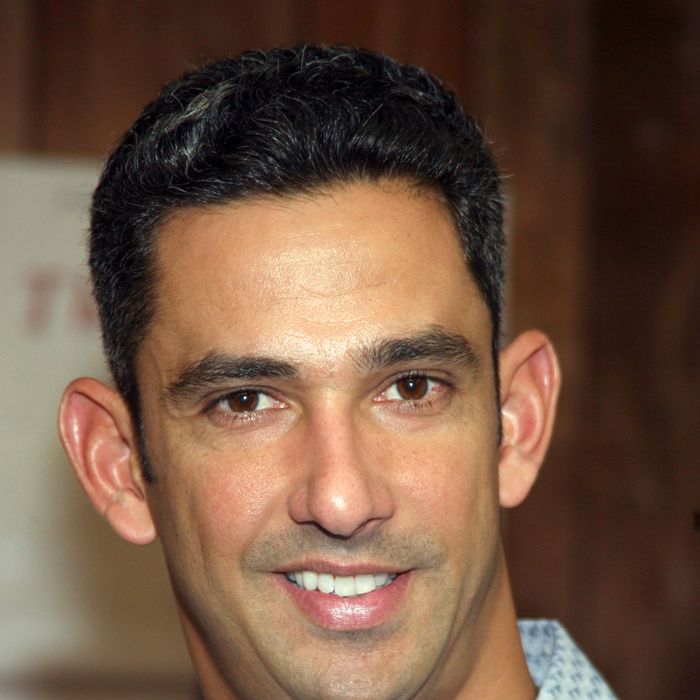 Photo: Sylvain Gaboury/PatrickMcMullan.com
To raise money and awareness for Craniosynostosis, a rare and expensive medical condition that affected their son, Jorge and Laurie Posada are launching a new sangria brand called Cinco Anillos. Last night at the National, we caught up with the Yankees superstar and his beautiful wife about his own in-season drinking habits, his favorite New York restaurants, and what's up with A-rod's love life.
Have to ask, have you ever had a Fenway Frank?
Jorge Posada: No. I have never had one. Never. I'll try it one day, I will. It's not like everyone is enemies like it would have been twenty years ago. I don't have any Red Sox players' home phone numbers or anything, but it's friendly enough.
Are you a sangria aficionado?
JP: I'll drink it here and there. You know, socially. You gotta take care of yourself; you can't do anything in excess.
Laura Posada: I'm going to tell you the truth — he's not a drinker. He's never even smoked a cigarette in his life. He's never smoked pot, nothing like that. Never.
JP: On our first date, I was drinking cranberry and vodka, and she was drinking straight whiskey. That's how it is.
Who's the cook at home?
JP: My wife! I am not a good cook. I would not starve, but I can't cook.
LP: We try to be really healthy at home. I make him grilled chicken, or shrimp salad, or ceviche.
JP: I love all Puerto Rican food. I love rice and beans. I like anything with steak, chicken, pork. But I like chocolate and potato chips, too. I eat that when my wife goes away and isn't looking.
What's your philosophy as far as feeding your kids?
LP: I hate when people blame McDonald's for their kids' eating habits. It's your responsibility as a mom to make them eat healthy. My kids crave sushi, salad, fresh pasta, because we taught them that healthy food is good food. Their favorite restaurant is Tao!
JP: As a family, our favorite restaurants are Tao, Rosa Mexicano, Victor's Café, and Churrascaria Plataforma.
Any good Jeter gossip?
JP: Derek is my best friend on the team. We grew up together.
Did A-rod and Cameron Diaz break up or what?
JP: I don't think they broke up? We've seen them together. She's always happy and smiling.
LP: She's very, very nice. She has the best legs I've seen in a long time. I'd take her legs for a weekend, let me tell you.