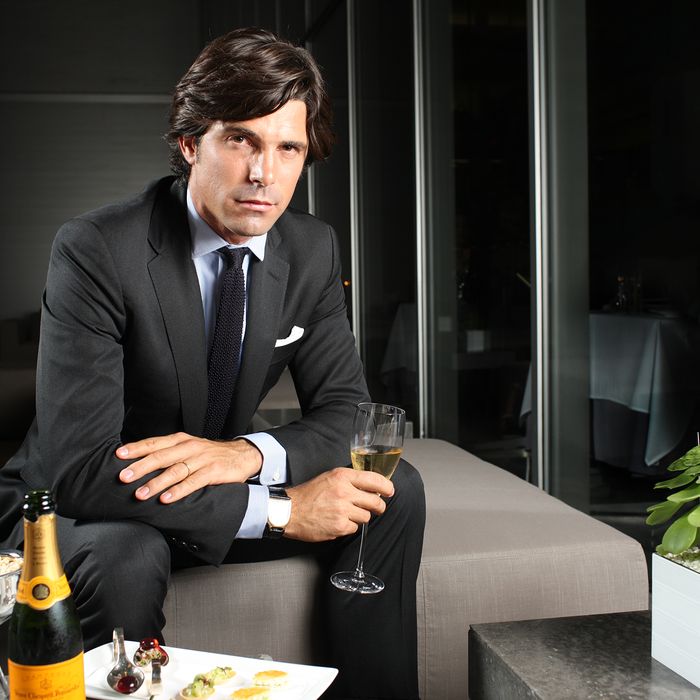 Figueras shows off his loyalty to Veuve Clicquot at the Modern.
Photo: Melissa Hom
We know what you're wondering, and no, international polo player Nacho Figueras doesn't eat many nachos: "I have to stay in as much good shape as I can. My horse is otherwise giving me a hard time if I eat too much," he tells us. He's in town this week for the fourth annual Veuve Clicquot Polo Classic, which he created to raise awareness of the sport in North America, and to raise money for Hope, Help & Rebuild Haiti. "Last year we had 14,000 people show up at the event, so hopefully that's the proof that I'm on the right track about polo being something exciting for spectators," Figueras says. (Then again, maybe it's just because a lot of women turn out to get a look at him. But we digress.) For tales of Hamptons dinners and, of course, a few flutes of Veuve Clicquot, read on in this week's New York Diet.
Friday, May 27
I was here in New York. In the morning, I drank this thing that we Argentinians drink called maté, which is the yerba maté leaf. We put it in this pot and we drink it with a metal straw. So we drink that in the morning. It's like green tea kind of, very bitter. So I have that in the morning normally with a seven grain toast with cream cheese, or sometimes nothing, or honey.
I was with my family and we drove out to the Hamptons, so we had lunch in the car. We had ham and cheese and avocado sandwiches on our way, to make it a shorter trip. And also I wanted to avoid traffic since it was Friday before Memorial Day weekend. I got them from Prêt à Manger. They're good sandwiches, right? I spoke to a few friends who came in later, and the traffic was bad later, so it was a pretty smooth ride.
At night, we had roasted chicken with vegetables at home. Because we have kids, very simple. With that we just had water, Evian water.
Saturday, May 28
Morning, it's always the same. I always have maté with toast, so you can repeat that 25 times. Sometimes I have Wheaties with milk, but normally it's just maté with toast.
I had lunch at this restaurant in Bridgehampton called Pierre's, which is this French guy, a friend of mine. I had lunch there with some friends, and that day was the finals of the Champions League, so he had a big-screen TV, and we watched Barcelona beat Manchester United while I was having an eggs Benedict. Good eggs Benedict. Very good eggs Benedict. Barcelona won 3–1, which is a thing that I was rooting for, so it was a good day.
I had dinner at a restaurant in Sag Harbor called Tutto il Giorno. I had branzino, which is like a fish, grilled, with an arugula salad. No dessert. I'm boring, I just had water.
Sunday, May 29
Lunch was pasta at home. Just regular penne pasta with olive oil and fresh tomatoes and basil.
And then that night I went to a friend's house for a cocktail party, like dinner, where they served little crab cakes, and mini-burgers, mushroom something, tuna tartare — little things. I had a little bit of everything. I had a little bit of Champagne, that's it. Just not to be too boring. Needless to say that it was Veuve Clicquot, right? Honestly, I don't drink too much, so when I do, I do Champagne, so it's good. You're not going to have a headache.
Monday, May 30
Regular morning, and then we went to Shelter Island, to Sunset Beach, to this thing that we were doing with Veuve Clicquot, like a get-together, celebrating the event this week in New York. I met with the team there, with donors, with Andre Balasz, who has a lot to do with this event with the Hope, Help & Rebuild Haiti thing. We of course had Veuve Clicquot. There was Veuve Clicquot all over the place, so I had a couple of glasses, maybe. And I ate a tuna tartare and a salmon carpaccio, and French fries with mayo, which is very French. They are very French. And I had a ham and cheese and mustard sandwich.
And then that night, I made a barbecue at home. I made some skirt steak on the barbie with just a tomato salad, with the kids and [my wife] Delfina.
Tuesday, May 31
On Tuesday morning, I came back to New York. I had a very early interview on TV, this Fox & Friends thing.
Then we went to do a photo shoot with the horses for the event on Sunday in Greenwich, Connecticut, so for lunch we stopped at this very old, cool joint called the Red Store. It's like a red, old, wooden thing that I've been going to for a long time, when I play polo there. I had a roast beef, Swiss, and tomato sandwich on a roll, and Vitaminwater.
I had mac and cheese at the St. Regis with the kids. Best mac and cheese in town. Room service. Room service mac and cheese with the kids and Delfina.
Wednesday, June 1
Morning was regular. I had maté and toast.
I had a salad, just like a regular salad at the Standard Grill in the Standard Hotel. I was around the area for a meeting, so I just had a salad there.
Then at night I went to the MoMA restaurant. There, I had a glass of rosé Veuve Clicquot with my wife. We were just the two of us, so we had to celebrate our alone time in this lovely place. I had an asparagus soup to start, and I had a funghi risotto. We put the kids to sleep first. I kissed them good night, and went to the restaurant, so when we came back they were already sleeping.