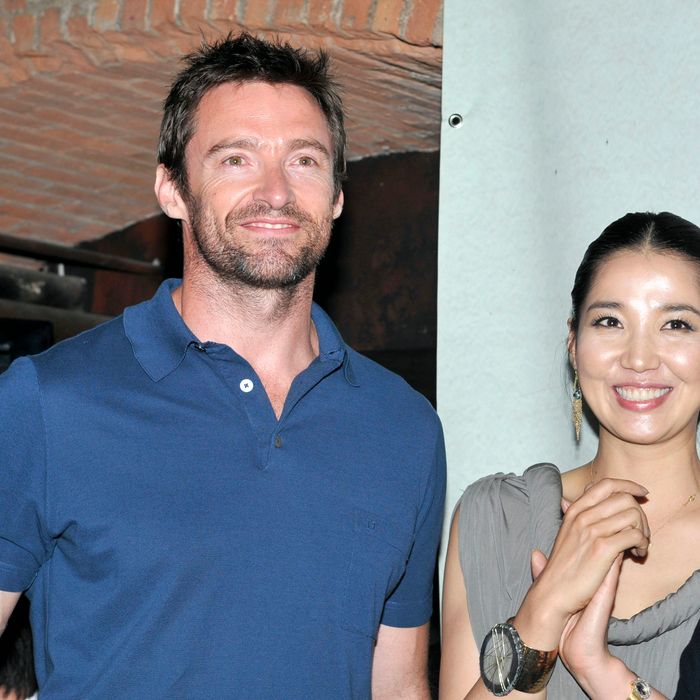 Photo: Jonathon Ziegler/PatrickMcMullan.com
After we got done asking Jean-Georges Vongerichten about his new restaurant at last night's Kimchi Chronicles premiere, we caught up with one of the show's guest stars, Hugh Jackman. If anything, we figured an A-Lister like Wolverine (and his wife, Deb) would at least be able to shed a little light on why so many celebrities seem to be getting into food all of a sudden.
Have you noticed how many celebrities are now foodies?
Deb Jackman: I know, it's like people in Hollywood are finally eating! Who isn't a foodie these days?
Hugh Jackman: I don't know if it's cool or not, or trendy or whatever, but I've always been a foodie. I remember when I was young, the only thing I ever dreamed of — it wasn't cars or houses or trips — the only thing I wanted money for was to be able to walk into any restaurant I wanted and order anything off the menu, without having to worry about it. Careful what you wish for, I guess!
Where do you exercise that dream now?
Hugh: Honestly, JG's restaurants are my favorites. 
Deb: I agree. I'll take ABC Kitchen for lunch and here [Spice Market] for dinner. 
Hugh: We just took my dad and brother to the French Laundry in Napa. Do you know that one? Oh my God.
Did you meet chef Keller?
Hugh: He wasn't there, but it was so sweet because he left a note. There was a card on the table … it said something like, "Thomas Keller would like to thank you so much for being here … " Very thoughtful. Every detail there is beyond.
Is there a Jackman Family Cookbook in the future?
Hugh: No, but we're definitely into reading cookbooks. When I met Deb, it was chicken and coleslaw, that was it, that was all she could make. Now she's amazing in there, she could have her own cookbook, she's wonderful in the kitchen.
Deb: By osmosis, I got married and overnight, I could cook. I went from chicken and coleslaw to cordon bleu in 24 hours.
Hugh: Deb doesn't even need recipes. Not me, I'm very mathematical about it.
Then you'd be a great baker.
Hugh: Absolutely. I'm good in the morning and I love bread.