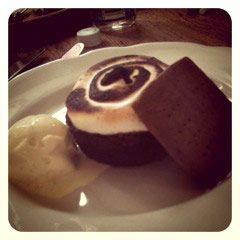 The Peels S'More Cake.
Photo: Courtesy of Hester Street Fair
As previously mentioned, the Hester Street Fair plans to open on Sundays for food blowouts along the lines of the Brooklyn Flea's Smorgasuburg, and the first one, we're now told, is this weekend. At the Sunday Summer Picnic, there'll be 25 communal picnic tables, plus Ping-Pong, badminton, and music from the Red Hook Ramblers. New vendors will include Peels pastry chef Shuna Lydon, who'll be asking $4 for a Peels graham cracker accompanied by the S'More Cake you see here (it's a Devil's Food cake frosted with a milk-chocolate ganache and topped with vanilla-marshmallow swirl). Ryan L. Jordan of the Clerkenwell (and before that, the Breslin) will be serving currywurst in a New York pretzel roll. Brooklyn Farmacy will team with Adirondack Creamery to make floats with carrot spice and coconut ice cream, and Purple Yam will be doing their pork spare ribs adobo. Meanwhile, the Pofferjtes Man (who debuted at Hester Street Fair last weekend) will be making mini-Dutch-pancakes that can be topped with strawberries and whipped cream. Check out the rest of the lineup below.
The Teaologist
Melt Bakery
Guss' Pickles
Robicellis
Adirondack
The Jam Stand
The Shaved Ice Shop
P&H; Soda
Spatzi
Macaron Parlour
Cemita
Arancini
Clerkenwell
Les Enfants Terribles
The Poffertjes Man
Athni's Greek Food
Daisy Dukes BBQ
Purple Yam
La Sonrisa
Fresh Ginger Ginger Ale & Baos by Bruce Cost
Mighty Balls
La Newyorkina
Brooklyn Farmacy
Peels
Dora