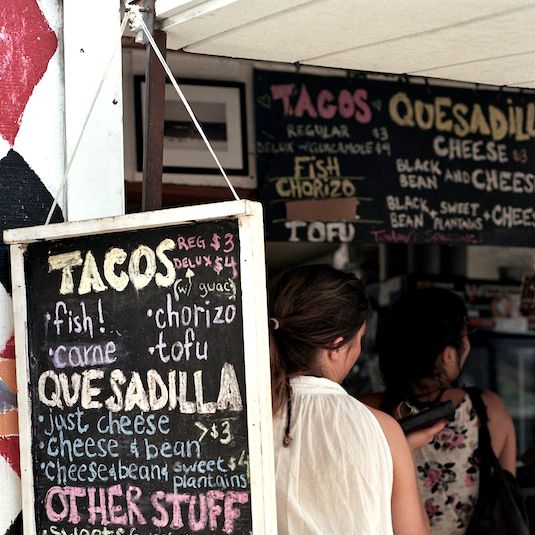 Have you heard? Rockaway Beach has become the summer-weekend-Williamsburg. The Times has a piece today to that effect (the paper even notes that "Food blogs like Grub Street hailed this tiny Mexican diner as a gastronomic second coming, comparing its chef, Andrew Field, to 'a local Rick Bayless of sorts,'" which is nice), and Michael Idov also explores the idea for New York, saying that the "neighborhood is becoming a kind of nexus of foodie culture, social do-goodery, and guerrilla entrepreneurship." Of course, it's the "foodie culture" part that interests us.
Anyway, it's great out there, and with all this exposure, we're willing to bet plenty of first-timers will be hopping on the A train and heading out. Plus, have you seen this weekend's weather report? Gonna be gorge. So, here's what you'll want to make sure to eat while you're out there.
Babycakes: The outpost of the Lower East Side original sells vegan doughnuts and more.
Boardwalk, at Beach 96th St.
Blue Bottle Coffee: The winner at this coffee stand is the New Orleans–style iced chicory coffee. They sell beans, too.
Boardwalk, at Beach 106th St.
Bungalow Bar: A hidden-away neighborhood bar and grub spot that boasts a back deck with postcard views of the Crossbay Bridge.
377 Beach 92nd Street, nr. Rockaway Freeway; 718-285-0675
Caracas: The arepas and fried empanadas you know and love from the East Village location, plus fried cheese sticks.
Boardwalk, at Beach 106th St.
Connolly's: A surfer, lifeguard, and townie bar (complete with hardbody contest photos on the walls) that's known for its front-porch scene and its frozen piña coladas.
155 Beach 95th St., nr. Shore Front Pkwy.; 718-474-2374
DiCosmo's: Fresh-fruit Italian ices in flavors like guava and chocolate — they also have a cart on the boardwalk. Founded in 1915, the company is even older than the Lemon Ice King of Corona, which sells ices out of the Irish Circle bar, over at 10119 Rockaway Beach Boulevard.
95-19 Rockaway Beach Blvd. (entrance on Beach 95th Street)
Elegante: They deliver pizza — and good pizza — to the beach. 'Nuff said.
9201 Rockaway Beach Blvd, nr. 92nd St.; 718-634-3914
Kennedy's: This remote Breezy Point longtimer is where you don the polo shirt for good martinis, solid surf and turf, white tablecloths, and a view of the skyline way out across the sandy shore.
406 Bayside, nr. Point Breeze Ave.; 718-945-0202
La Joya de Ceren: Salvadoran grub, including pupusas and a cheap, excellent mixed ceviche.
112-16 Rockaway Beach Blvd., nr. 112th St.; 718-318-1820
Motorboat & The Big Banana: Jean Adamson (Vinegar Hill House) and and Lindsay Robinson (ex-Diner) do fried shrimp and fish sandwiches and platters, plus frozen bananas covered in chocolate as well as toppings like peanut and sea salt.
Boardwalk and Beach 96th St.
Ode to the Elephants: Authentically spicy Thai by way of the surfing town of Rincon, Puerto Rico.
Boardwalk and Beach 96th St.
Rippers: The delightfully messy Hardbody cheeseburger combines two Meat Hook patties with grilled onions, pickles, and special sauce — on a potato roll, naturally. No liquor license yet, but they do sell beer cozies!
Boardwalk at Beach 86th St.
Rockaway Taco: The neighborhood's original "this place is so cool" taco shack. The original location serves the tacos (and especially fish tacos) that made it a surfer and fixed-gear biker favorite, and the boardwalk satellite at Beach 96th Street sells a new specialty (flautas) but no tacos.
95-19 Rockaway Beach Blvd. (entrance on Beach 95th St.)
Thai Rock: Thai food paired with live-band karaoke, cover bands, and crooners (depending on the night), with a back deck to which you can hitch your boat.
Thai Rock, 375 Beach 92nd St., nr. Beach Channel Dr.; 646-455-3991
Veggie Island: Smoothies as well as produce from farmer Guy Jones. Spring for a watermelon and take it to the beach.
95-19 Rockaway Beach Blvd., at Beach 95th St.
The Wharf: Another hidden-away spot for beachy diner fare and views of Jamaica Bay.
416 Beach 116th St, nr. Beach Channel Dr. (behind the Quick Lube); 718-474-8807
Williamsburg in the Rockaways [NYM]
Taking the A Train to Summer [NYT]