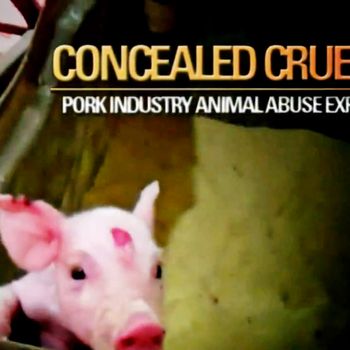 Remember the days when PETA used to throw paint at ladies in fur coats? So vintage. Nowadays animal-welfare groups are increasingly turning to another tactic: gross-out videos. The latest, which dropped this week and was picked up by ABC News, depicts alleged cruelty to pigs at Iowa Select Farms, one of the country's biggest pork producers. And it's even more disturbing than that Smithfield video that had us off potstickers for a month back in December (the "graphic material" warning at the start of the footage is not a joke).
However, horrifying consumers doesn't accomplish nearly as much as stopping these atrocities from the top down, and Mercy for Animals, which made the video, seems to realize that: The Associated Press reports that the group has been "pressuring" grocers to halt purchases from the farm, and it's already worked in some cases. Good.
Meanwhile, the AP also reports that some farmers have been pushing for laws that would make this kind of undercover videotaping illegal, and there's already legislation in the works in four states that could ban the practice. What's more, Iowa Select's director of external affairs is trying to claim that the video is staged. Assuming that's not the case, Mercy for Animals is saying the footage was recorded between April and June, which makes us ask whether the time might have been better used trying to stop all of this as soon as possible, instead of waiting around for just the right shots. Regardless, this seems like a much better use of animal-rights groups' time and energy than storming seafood joints. See the video below, and be prepared to squirm.
Iowa Pig Farm Filmed, Accused of Animal Abuse [ABC News]
Animal welfare group pressures grocers with videos [AP]
Related: So Let's Talk About Raising Animals for Food