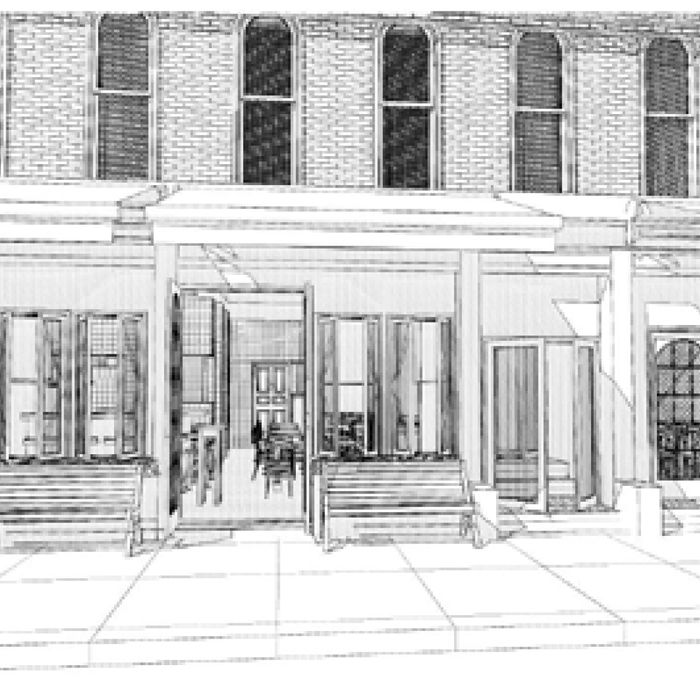 A rendering of Louie & Chan.
The building at 303–305 Broome Street has sat vacant for several years, but now it seems the owners of Grotto will develop a restaurant and club complex called Louie & Chan in the space. Bowery Boogie got its hands on a detailed brochure, which outlines the "story" behind the project (two friends, an Italian and a Chinese immigrant, hatched the idea one night in 1925) and the concept of an upstairs vintagey Italian restaurant (with wood-burning pizza oven), and downstairs "opium den" and music club. The whole thing sounds ambitious, particularly since the last eatery at the address was the humble LES Sandwich Shop. But then again, the stretches of Broome close to Bowery are starting to develop.
And speaking of big downtown projects, Fork in the Road gets a peek inside Milk Street Café, a "massive 23,000-square-foot food hall" coming to 40 Wall Street. When that opens June 23, it will reportedly feature "an oatmeal bar, pasta bar, sushi bar, salad bar, a grill and rotisserie, pastries, a café." It's no Goldman cafeteria, but it should spruce up lunch options down there.
Coming Soon: Louie & Chan at 303 Broome Street [Bowery Boogie]
Here's a Glimpse Inside the Massive Food Hall, Milk Street Cafe [Fork in the Road/VV]