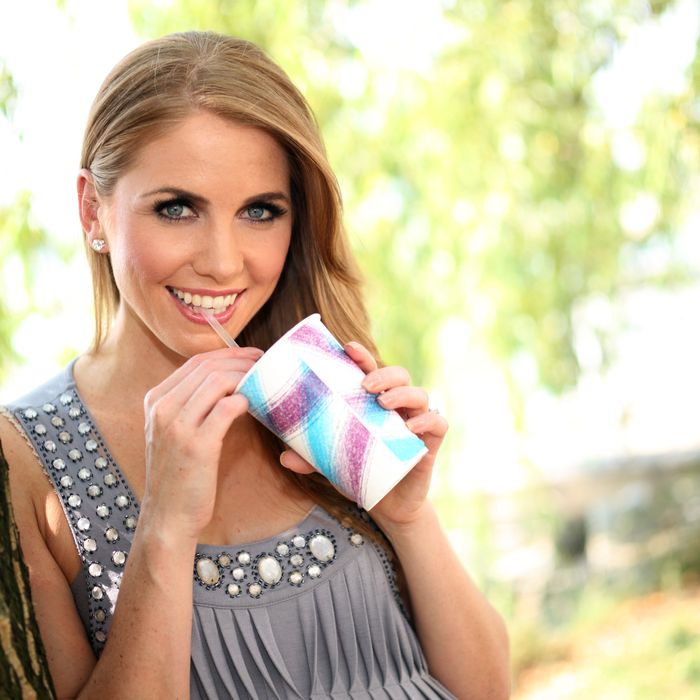 Lee cools off with a blueberry lemonade.
Photo: Melissa Hom
As one of the anchors of Happening Now, Jenna Lee is used to thinking about her appearance. "When you are on television on a daily basis, absolutely you're thinking about how you look," she says. But that's nothing compared to how people think she should eat as she gets ready for her wedding next month. "The last couple of weeks, people have been saying 'Oh, you must be really dieting for your wedding,' and I'm like, no, I'm actually not — thanks so much for pointing that out." But we should clarify that it isn't her fiancé, a Navy SEAL, who's saying that: "He eats differently than a female anchor on the news. He's always saying 'Eat more, eat more!' and I'm like, Oh my God, we're gonna have to have a conversation about this. Figuring out how to feed a Navy SEAL is a new project." But before that new regimen kicks in, she's spending her time arranging "antipasto Fridays" and grazing on dark-chocolate raisins. Read all about it in this week's New York Diet.
Friday, June 10
Usually when I get into work I'm kind of boring. Greek yogurt and some fruit. But on Friday I did something fun for the show. I work with a lot of Italian guys, and I'm half Italian. We were talking about Italian food and decided we should do antipasto Fridays, so I said I'm going to bring a bunch of cold cuts. I went down to Faicco's in the West Village on Thursday afternoon and picked up a bunch of mortadella, mozzarella, and sopressata and olives, then put it out for the guys during the show. I ate some, too. It really kind of loosened things up — that was a lot of fun. I brought in dark-chocolate wafer cookies from Faicco's, too, which were really yummy.
In the afternoon, I didn't really do anything, but I had dinner with one of my good friends and bridesmaids at this place called Santa Fe on 71st and Columbus, and we had a whole bunch of stuff: cheese quesadillas with scallions, fish tacos, guacamole with black-bean dip. And I always eat way too many tortilla chips, which I did that night. And they had these great margaritas. I had two large grapefruit margaritas on the rocks, which I have to say, were definitely worth it.
It's a fun place, though, because the bartender and his wife, who is the manager, just got married, so we were comparing notes.
Saturday, June 11
After yoga on Saturday, I had a soy latte at Le Pain Quotidien. When I got home, I made some egg whites and avocado, and threw some cheese on that. I didn't have anything else that day because I had a really early dinner.
One of the good things about working so early [Lee was formerly an anchor on Fox Business Morning, which aired at the ungodly hour of 5 a.m.] was it taught me, if you're hungry at 9 a.m. for a sandwich, you should have one. You know? I still kind of do that. A lot of big meals in the morning and then I kind of graze until the evening.
That night I met one of my good friends from Good Morning America at Momoya. It's a sushi restaurant on the Upper West Side. We had some awesome stuff. Green salad, black-cod roll, snow crab, and baked-scallop rolls that they had. During the week I still have to get into work around six in the morning, and when it gets to the end of the week, I run out of steam. So my friend also has a similar schedule. And we can relate and have an early dinner and not feel like a bunch of losers. We were eating at like 5:45 p.m., so we felt like senior citizens, but that was like the perfect Saturday evening for me.
Sunday, June 12
Sunday was a totally lazy day. I usually get up in the morning and work out and watch Sunday shows, so that's kind of my routine. And I had a big lunch around noon. I did egg whites, salsa, hot sauce, avocado. I had seven grain crackers with it.
Throughout the day, I was cleaning my entire apartment. So I have dark-chocolate raisins in my apartment always from FreshDirect. They're one of my favorite things. I was grazing on those all day. And I had an iced coffee with a splash of half and half. I don't do a lot of dairy, but a little half and half in the iced coffee is fine.
I try to cook every Sunday night, and I can eat what I cook for the next couple days. So on Sunday, I stir-fried some shrimp with cumin and chile and lemon — because I didn't have any lime, unfortunately — and served that over lettuce and made some black beans. And I hard-boiled a bunch of eggs for the week as well.
I'm not a good grocery shopper. I'm not. But my fiancé is motivating me in a lot of ways to cook, so he's very good about making sure my refrigerator is stocked. He's such a good guy. So when he comes into the city, he's like, you have nothing in your refrigerator. So he bought shrimp the other day, we froze it, and that's why I threw it on. I got the recipe from one of our hairstylists here at Fox who has kids. She said, "You should try this, this is really easy. You just throw a bunch of chili and this and it's great." And she was right. And so it's kind of fun to do that, but it's nothing very involved. I don't mean to oversell my cooking skills.
Monday, June 13
I don't drink a lot of coffee, and there's a strategic reason for that. When I was working really early in the morning especially, I started to drink coffee, and I've never been a huge coffee drinker, but I found that I was skipping the prompter. And I realized that coffee makes me jittery. I might have like a quarter of a cup, like a little espresso shot. But I can't have more than that because I'll get too anxious on air. It really affects me. If you ever see me on television and I'm stumbling on my words you'll know: She had coffee this morning.
But I had Fage yogurt in the morning, and I had a hard-boiled egg before the show. And a Fuji apple. Then I basically ate shrimp all day.
I ate the stir-fried shrimp for lunch with avocado and lettuce. Then for dinner — surprise, surprise — I just threw the shrimp in with the leftover black beans and mixed it all up, kind of like a dip, and I threw cheese on it, and that's what I ate for dinner. It was delicious.
Tuesday, June 14
Again, I did the yogurt. Oh, and on Tuesday, it was flag day, so we had a huge camouflage cake for Fox and Friends in the morning, so I had a piece of the cake around eight in the morning. I have photo evidence of this, because I was telling my makeup artists about this food diary, and she told me nobody was going to believe me if I put that down. And I didn't eat the whole cake, but I definitely ate all the frosting.
I had made an egg salad on Monday night, and I threw in sun-dried tomatoes and pickles and sandwichy stuff. I put the egg salad over arugula and brought that to work for lunch that day.
For dinner, I went to this really cool place I'd never been to before in the West Village with my friend. It's called Gottino. You can crack walnuts on the tables, and that's like your appetizer. It's very Italian. I loved it. We ordered a bunch of cheeses, and some porchetta, and some salami. I had a glass of red wine, which was super good. But it was so good I didn't even write down what it was.
Wednesday, June 15
I woke up early and made an egg-white omelette because I knew I hadn't made anything the night before. I brought that into work. Ate that before the show, and some yogurt.
I had to go to a dress fitting, so I downed a Clif Bar after that, and an iced coffee, and a banana. Then I went to yoga, and then went home.
I ordered food from this great vegan café in my neighborhood called Peacefood Café. They have the best vegetarian dumplings I think I've ever had. So I had those with the Caesar salad that's not a real Caesar because they don't use meat products or any dairy. Just a side note: They have a really good avocado sandwich that I ordered, too, so I could take it to work the next day. I was doing some bulk ordering.