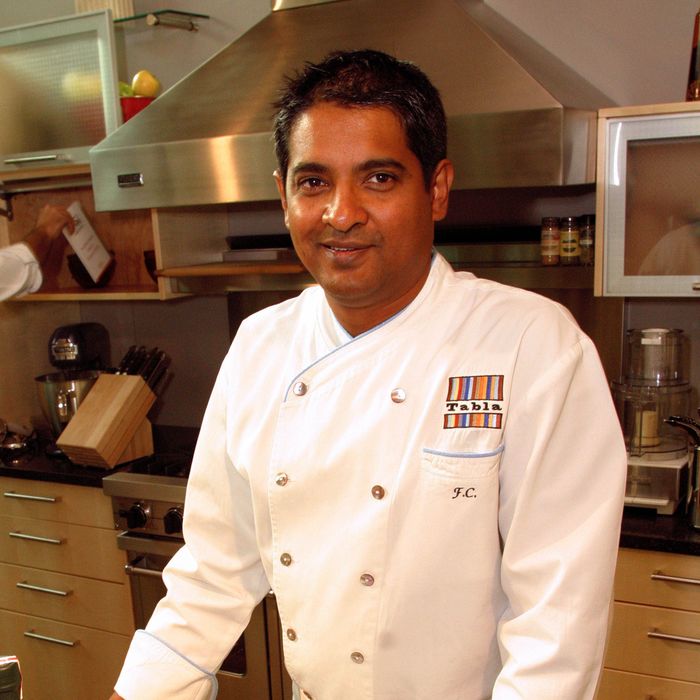 Photo: Mychal Watts/WireImage
On last night's finale of Top Chef Masters, Floyd Cardoz took home the title, beating out favorites Traci Des Jardins and Mary Sue Milliken. It's no secret that reactions to the show, which adopted a format similar to the original Top Chef this season, have been mixed at best, but now that it's all said and done, what does Cardoz, who is also in the midst of opening a new restaurant, have to say about the experience?
Well, first off, congratulations on the win.
Thanks.
Had you done much reality TV before this?
I did Iron Chef America. I did that against Bobby Flay. And [laughs] I believe, and everybody who watched the show believes, that I should have won.
So does this feel like vindication?
I think it does, yeah. It aired four years ago, and I still get people telling me, "You were robbed."
How did Top Chef Masters compare to Iron Chef America?
I thought it was going to be a similar experience, but I thought this was a little more difficult.
Anita Lo has said something similar — Iron Chef America is only one day, but the grind of taping Top Chef takes its toll on you after a while.
On Iron Chef, you have two people that work with you, who understand you. So if you say "mince a shallot," they know what you're looking for. If you want them to heat oil, they know how hot. It's things like that which really matter to you when you don't have time — it helps tremendously.
How did you find the challenges on Top Chef? Any favorites? Least favorites?
Well, I kind of sucked in the Quickfires. I enjoyed the microwave one. I thought that was interesting. I didn't really enjoy the bug one. I have eaten grasshoppers. I guess that's the only bug that I've eaten.
That was the first episode I was on. At that dinner challenge, Curtis was so sick from eating all the bugs earlier that day. I was like, What did I get myself into?
I remember that! It was my least favorite. Every challenge was different. I've been looking at feedback from people, like, How can you make chefs do that? I believe that if you're a chef, and you're put in a situation where you commit to doing a special dinner at someone's home, and you go there and the equipment's not there, you have to be able to adapt. I once did a wedding Chatham, Massachusetts, and I thought I was getting a full kitchen to cook for 200 people. And all I got was a stove and a hot pot. So you have to adapt while keeping what you believe in. Every challenge we did, we had something like that thrown in, and some were more difficult than others. The one in the trailer was tough because we had no fire power.
And you were in a moving vehicle.
We thought that there would be someone washing pots and pans for us! It got to a point where we were out of pans, and that's the reason why Alex [Stratta] didn't have a pot for his pasta. So there were things that really tried us. Before the fast-food challenge, we had no clue what we would have to do. So I had a plan that kept my dish pretty open. I said, if the challenge ends up being on a beach, I'll still be able to cook it.
On the finale, it was you, Traci Des Jardins, and Mary Sue Milliken. Did you think this was going to be the year that a woman chef would win the show?
As soon as I saw who was going to be on the whole show, I thought about who was going to win, and I said "Traci." But on the finale, that never really entered my mind. In the kitchen, men and women are the same to me. Everybody who was there, especially Traci and Mary Sue, I think they're phenomenal cooks. I have so much respect for them. It's been a crazy, crazy ride. I have so much more respect for the chefs who do this show. It does test you, and it's done in a very short period of time.
Did Mary Sue's friendship with Traci make you feel outmanned?
No. Never once. But I give Traci shit for the time she didn't choose me for the trailer episode. Whenever I see her now, before I even say anything, she says, "Don't complain about the trailer episode!"
So you knew all of the chefs before the competition?
I knew five of them well. I knew Traci, Mary Sue, Suvir [Saran], John Currence, and Alex.
Last season, Marcus Samuelsson won while he was opening Red Rooster, and now you're opening North End Grill. Do you think being in the middle of dealing with the headaches that come with opening a restaurant puts you in that competitive mood you need to win the show?
[Laughs.] You know, I don't think so. I don't try and think of what can go wrong. I just try to be in the moment and figure it out. I think that character helped me. But you know, with me, I'm a firm believer in never believing you're going to win something. Just stay true to who you are, and be honest with yourself. If you try to win, you do things that are not true to you. And that's not my character.
Do you think this will have an effect on North End Grill? Customers going because they saw you on the show?
I definitely think there are going to be more guests at our restaurant, because I'm seeing the feedback I'm getting from Facebook and Twitter, like, every single day. The comments are positive; people want to eat my food and come see my restaurant. Even from walking on the street in New York, or San Francisco, or L.A., to get recognized and see people rooting for you. That's part of the comments from people, and I think that people like my character.
Does that mean you think guests are going to start asking for dishes they saw on the show? I remember that buffalo-meatball sub was pretty incredible.
Oh, thank you. I think they might. I haven't decided whether I'm going to make it or not, and I think I might. Just do a special kind of thing for, you know, insiders. It's something I'm thinking about.
What about bringing back dishes from Tabla?
There may be a couple of things that will be back. One is the onion rings that people absolutely love. I think that could have a place on our menu. We're going to be grilling stuff, so there might be stuff that I'll do. Add some spice. Not in an Indian way, but in a flavorful way.
Are you still on track to open later this year?
Yeah, we are. We should be breaking ground any day now.
So fall/winter?
Yeah.
And you just opened an El Verano at Nationals Park, too. How involved were you with that?
I was involved. I was supposed to go down for it, but I couldn't make it.
Any plans for more expansion? Seems like there's a new Shake Shack opening every day. Are we going to start seeing El Veranos opening everywhere?
We have spoken about it in the company, but the opportunity has to be right to do it. There's nothing in the works just yet.
Are you ready for the reality aftermath? Doing something like serving as a judge next season?
Yeah, I think I like that. I kind of enjoy that. I think I have a great palate, and I'm a levelheaded guy. So it's always great to go and eat someone's food and see what they can do.