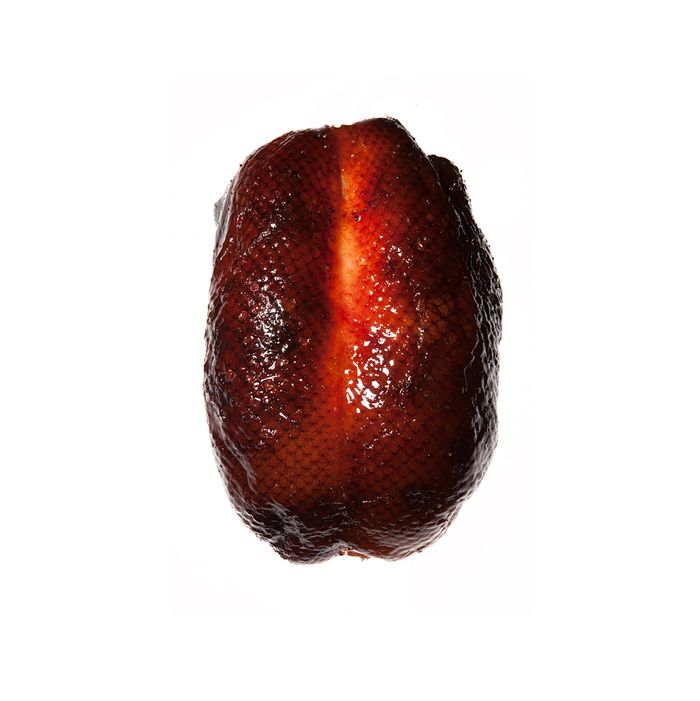 Momofuku's masterful duck.
Photo: Danny Kim
It only makes sense that the spotlight should finally fall on ducks in this locavore era: Ducklings are to Long Island, where they were cultivated after being conveyed from what was then Peking, China, in the late-nineteenth century, as crawfish are to Louisiana and salmon is to Alaska. And even though iconic dishes like canard à l'orange and Peking duck are familiar enough to have become bistro and Chinatown clichés, the protein is enjoying a newfound popularity. In addition to cameo appearances in an Empellón taco and a sloppy duck sandwich at the Dutch, the bird is the building block of at least two signature dishes: George Mendes's crunchy arroz de pato at Aldea, and the Island duck with mulberry mustard at Torrisi Italian Specialties (as in Long Island, get it?). There's even a fancy new duck, the Lola, cross-bred from a Peking and an "heirloom" mallard by Hudson Valley Duck Farm, which is served at Corton and Craft. But three restaurants have really gone whole hog — make that duck. Here's where you can eat until you quack.
M. Wells
21-17 49th Ave., Long Island City; 718-425-6917
Three-course $150 Peking duck dinner for four; Tuesday through Thursday; reserve at least 48 hours in advance
Chef Hugue Dufour inherited a Peking-duck roaster from the Chinese restaurant that once occupied the run-down diner he and his wife, Sarah Obraitis, leased in Queens. After a bit of Flushing-takeout reconnaissance, Dufour fine-tuned his sumptuous take, which commences with tender sliced breast and crisp skin to wrap in housemade pancakes moistened with a date-enhanced hoisin sauce, segues into an everything-but-the-kitchen-sink duck-fried rice, and concludes with a fragrant duck-bone consomme poured from a teapot.
Momofuku Ssäm Bar
207 Second Ave., at 13th St.; 212-254-3500
Duck lunch; weekdays, 11:30 a.m.–3:30 p.m.
Chef Ryan Miller has installed a five-spit rotisserie in the former Milk Bar space, where the goal of the counter-service lunch menu, he says, is "to show the versatility of duck." Mission accomplished with dishes like exquisitely cooked duck over rice, accessorized with zesty sauces and, if desired, optional add-ons like chive pancakes and bibb-lettuce leaves; a light and delicate duck-leg dumpling soup; and a hefty sandwich that incorporates liver mousse, leg-meat mortadella, and cured-breast pancetta. This being Momofuku, there is a thematic steamed bun: pulled duck with sauerkraut and smoked mayo.
Betel
51 Grove St., nr. Seventh Ave. S.; 212-352-0460
Aunty Mai's Sunday Dinners; $55 a person for parties of four or more; reserve at least two days in advance.
"We were getting whole ducks in anyway," says Australian chef Adam Woodfield, who utilizes their various parts in a family style dinner inspired by the Thai sous-chef who worked for him at Sydney's Jimmy Liks. There is spiced duck-neck sausage on betel leaves flown in from Hawaii, soft-boiled and deep-fried duck "son-in-law" eggs with green mango and sweet yellow bean, and Peking and barbecued ducks that factor into wonton soup and steamed rice noodle rolls, respectively. The twice-cooked duck is braised and then fried, and so are the duck tongues that Woodfield combines with lychees in a salad. But the Long Island ducks he buys come without the head and tongues sold separately. "They're $7 a pound, but that's about 100 tongues," he says. "They're very small.
Related: Chang Reveals Plans for Old Milk Bar Space: An All-Duck Lunch Menu and Full Bar