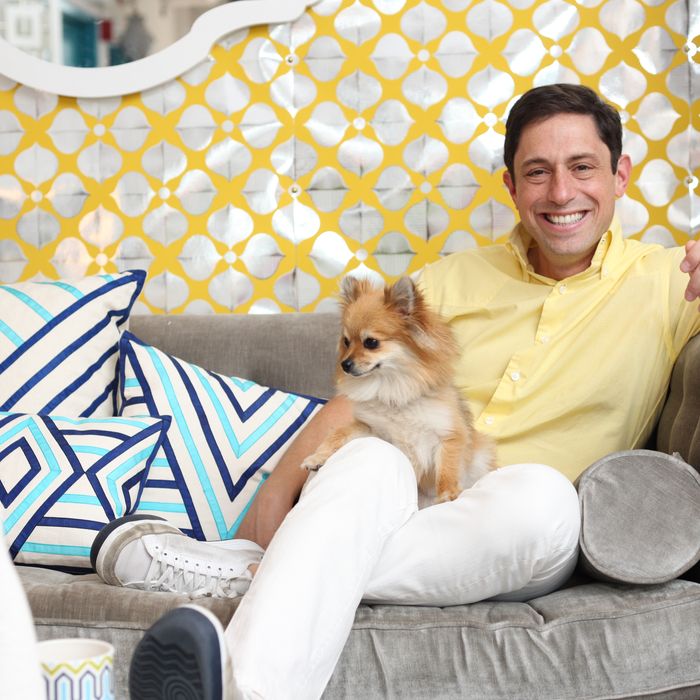 Adler in his Soho office, with a pup and a Pop.
Photo: Melissa Hom
Designer Jonathan Adler is on a mission: "My goal in life is to have a beverage named after me, sort of like an Arnold Palmer," he tells Grub Street. "I want the iced tea with milk to be the Jonathan Adler. Think about it: hot tea with milk. Why not iced tea with milk?" It makes sense that Adler would set his sights on a goal like that, since his eponymous design firm has conquered just about every other domestic sphere, from tableware to pillows to tchotchkes to parlor games — drinks are just the logical next step. So far it hasn't caught on, he says, "But I have sort of a Pollyanna-ish enthusiasm for things, so I'm still hopeful it'll happen. Please, Grub Streeters, I beg you to make my dream a reality!" For cookies, plenty of rhubarb, and, of course, a few Jonathan Adlers, read on in this week's New York Diet.
Friday, June 3
I was on Shelter Island at our groovy new pad doing a photo shoot for my next book, which comes out late spring, and so I had a house full of people. It was sort of mayhem, but I started out with my same brekky I eat every day, which is All-Bran and enough fruit to feed an army of fruit-eating people, and about 97 cups of PG Tips tea with milk. I live with a Brit [Barneys creative ambassador-at-large Simon Doonan], and I've become just a crazed, tea-drinking lunatic. In fact, the only conversation in our house is who made the last cup of tea and who turned on the kettle. I try to shift from caffeinated to decaffeinated by about three o'clock; I go from my PG Tips to my mint tea. So, tea, tea, tea; I have about 75 cups of tea.
Then, because there was a photo shoot and there were all these people around, unfortunately there were just limitless muffins everywhere. I have sort of a problematic relationship with food, in that I have zero self-control. Zilch, and I have never met a muffin I don't love. As much as I tried to resist, I had a corn muffin. Immediately regretted it, but what can I do?
Then I worked, worked, worked, photos, photos, photos, and then lunch rolled around. On Shelter Island, there is the best store, sort of gourmet, couture foodery on earth, which is called Redding's. It's like a gift from God, and they make the most divine individual little pizzas that are so fantastic. If you eat one, you feel sated, not piggish. There were like eight of us, so we had pizzas from Redding's and grilled asparagus. We were outside, and it's by the sea, and the weather was spectacular. Then we got back to work. Worked, worked, worked, and then, because it was a photo shoot, I just kept grazing all day on cookies and various baked goods. Then thank God I got everybody out of my house by about 4:30 p.m., after it had been just mayhem all week. It was bananas. As much as I loved all the people that were there, I was so happy to see the back of them. I managed to spend about 40 minutes on the elliptical machine, which at least made a dent in the muffin, albeit maybe not the muffintop.
For dinner, Simon and I were very happy just to be on our own, and I made him rigatoni with broccoli and chicken. We're both teetotalers, so we don't drink. And for dessert, we had an apple pie made by our housekeeper in New York that is like, the most delicious thing on earth. Truth be told, I also sort of ate a cookie or two before bed.
Saturday, June 4
Finally was able to sleep in, so woke up at around eight. Had my normal brekky. Then chilled, went for a swim because the weather was spectacular, then at one, two of my operatives [Adler-speak for "employee."] and their boyfriends were staying on Shelter Island, and they came over for lunch. We served — I'm really dreary and repetitive, and we served the exact same lunch from Redding's. It's a turnkey. It's hard not to. It's so easy-breezy, and sort of just what you want. Then for dessert, I had a real conundrum, which was, I went to Redding's and I bought a strawberry-rhubarb pie, and then I also bought cupcakes. And so all morning, I wrestled with which to serve for dessert … I guess the real question was, which was I more willing to sacrifice, and which did I want for myself for later? And ultimately, I decided on serving the pie for dessert for lunch, which was delish. Love a strawberry rhubarb. It's in season, it's the best. In the middle of all this, I keep forgetting about the constant grazing and snacking that's going on at all times. I eat about as much as a high-school athlete, only I'm not in the first flush of youth. I have no self-control.
For dinner, we had just been so stressed out, we were ecstatic to be at home alone again. It was like the best thing ever. I literally just served leftovers, and it was delish. I kind of think everything tastes better the next day, but that's just me. And I made strawberry shortcake. Strawberries are in season, and the Martha Stewart strawberry-shortcake recipe is just really a winner. It's easy, it's delicious, it's just really good. Then ate a few cookies until I passed out.
Sunday, June 5
Got up around eight, same brekky I always have. A couple of friends came over for lunch, and I made grilled turkey burgers. Yum. Very important not to get the all-white-meat, fat-free ones, because they're dry as can be, so I wisely did not. Summer, so happy to be grilling. Ate on the deck, looking at the sea, in heaven. I just did all the fixings, and I served broccoli. I love broccoli. I've never really even understood salad. I'm just not a salad person. Maybe it's a guy thing, I don't know. Salad — yawn. And for dessert, I bought cookies from Redding's.
Then we high-tailed it home to New York. I wanted to watch the Heat-Mavericks game, and we got takeout from Japonica sushi, which was delish. I do three pieces of fresh salmon, two pieces of yellowtail, one inside out California roll with real crab, and then their green-tea ice cream is unbelievable. It's like heaven. It was really good, except the Heat won, which kind of harshed my mellow. It had been a perfect weekend, and I was starting to get that Sunday-night feeling, and then seeing the Mavericks lose was just a megabummer. So it was kind of a rough night.
Monday, June 6
My mornings are full. Up at seven, normal brekky, read the Times, the Post, and Womenswear [Daily], walk the dog, chitty chat with the husband. Then I go to the gym before work, get to the office by like 9:30 a.m. I do it all.
I pretty much do the same lunch almost every day, which is I go to Giorgione with the president of my company, who I love. He's sort of my work husband. We always sit at the same table — we've earned sort of the best table in the house, and it's just so easy. We just sort of breeze in. They always have my cup of iced tea on the table for me. I'm very much about a routine. I love it. For lunch on Monday, I pretty much alternate between a few things, but I had a frittata, the asparagus frittata, which is fab. Then I have the same thing for dessert every day there, which is, they have these lemon polenta cookies that are bananas how good they are. They're incredible. Then I got back to the office, and our office is a disaster. It's always somebody's birthday, and Jacques Torres, the chocolatier, is around the corner, and it's just bad news. I came back and there was some Jacques Torres chocolate, and there was some birthday cake. I ate that.
Then in the evening, I schlepped up to the Upper West Side, which I never do, but one of my best friends has just moved up there, and unfortunately she's become a vegetarian. They tried to get me to go uptown last week, and they were trying to fool me into going to some vegan restaurant, which is a non-starter. So I insisted we go someplace that serves meat, and we went to a restaurant called Dovetail, which was having meatless Monday. I was like, What? Are you joking? But thank God you can still order meat things. They had this bizarre coconut soup appetizer, which, I don't even really like coconut that much, but it had shrimp in it. Only when I got it, it had like, one little tiny baby shrimp, so I was like, All right, I'll eat the shrimp. Then I had a sirloin, which was really delish. And for dessert, I had something rhubarby. I'm mad, mad, mad for rhubarb. I grew up in the country — that sounds more bucolic and beautiful than it was. I grew up in, like, this crappy farm town, and we always used to grow rhubarb.
Then I came home, and our housekeeper had made her fresh banana bread. It's so good, and I was completely full from dinner. Totally stuffed. But I couldn't resist, and I ate like two pieces of banana bread and went to bed just generally like, Oh my God, and passed out. But it was so delicious; it was all worth it.
Tuesday, June 7
Tuesday, I am a creature of habit. I had my normal brekky, normal morning routine. Went to lunch with my work husband. Same table. This time I actually had steak and asparagus for lunch, and then obviously my lemon polenta cookies, and a Jonathan Adler.
Then for dinner, I went to see my friends David Sigal and Brad Hoylman. David just directed that Florent: Queen of the Meat Market movie. He's one of my oldest friends. We went over to see them and their new baby. They have a 6-month-old baby, so that's adorable. So we visited the baby and met our friends, a couple called Deb and Deb. And Brad and David, and Deb and Deb, and Simon and I all went to Centro Vinoteca, which I've never been to. But we went, and that was really, really, really fun. I was really, really hungry, so I over-ordered. So I ate mozzarella and tomato to start, and then I had a pork chop, which unfortunately came with Swiss chard, which I wasn't really feeling. And then I ordered a rhubarb crostata, and it came, but it was actually a cherry crostata. Unannounced, they just switched it up. It was good, but I was disappointed because I was looking forward to my rhubarb.
I was so full and somehow managed to waddle home. I didn't even have a cup of tea, I was so full. But it all ended well, because I watched the Mavericks beat the Heat, which was great.
Wednesday, June 8
Normal brekky. Lunch, actually, was something really unprecedented. I literally had back to back to back to back meetings, and I did something I never do, which is like, I'm never the person who barks out at his assistant, "Get me a cup of this, get me blah blah blah." But I literally was stuck in meetings all day, and I just sort of begged her to order me a frittata, and I sat and ate it at my desk, which I never, ever, ever do. If I don't go out to lunch, at the end of the day I feel like I didn't have a day. But I was still high from the Mavericks victory.
That evening, I hosted a party at my Madison Avenue store for a book called Jersey Girls, this really fun, hilarious book that's just come out. It was a big, blowout bash. I co-hosted with Robert Verdi, and I had cotton candy, which is a complete appetite destroyer. Then I went down to the house of Mark Lee, from Barneys, and Ed Filipowski, and they hosted a dinner for L'Wren Scott, which was really fun, but my appetite was destroyed by my cotton-candy intake. But I soldiered on and ate everything in sight.