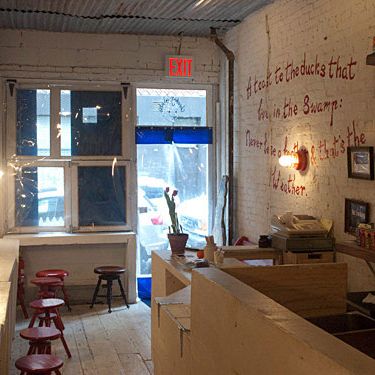 The sandwicherie is taking its laid-back vibe to Brooklyn.
Photo: Ryan Monaghan
DeKalb Market is preparing to roll out its shipping-container-housed foodie paradise July 16, and Grub Street hears another exciting vendor is onboard: Cheeky Sandwiches. The LES po'boy purveyor joins the likes of Filipino pop-up Maharlika and Robicelli's cupcakes, as you'll recall. Specific details are scant at the moment, but we'll run 'em as we get 'em.
We also hear the market's eight garden plots are all spoken for, thanks to community farms and businesses such as Brooklyn Grange and Liberty Garden Center. They'll be tilling the soil and providing education, and on-site eateries are set to use the produce reaped from the plots. Just what Smorgasburg, Hester Street Fair, and the nearby Brooklyn Flea need: more market competition.
Update: Cheeky's owner informs us the DeKalb location will offer an abbreviated menu — just the beef sandwich, the chicken biscuit, and the egg biscuit, to start — plus beignets, coffee, Big Shot Soda, and Zapp's potato chips. The space will likely have about four seats.