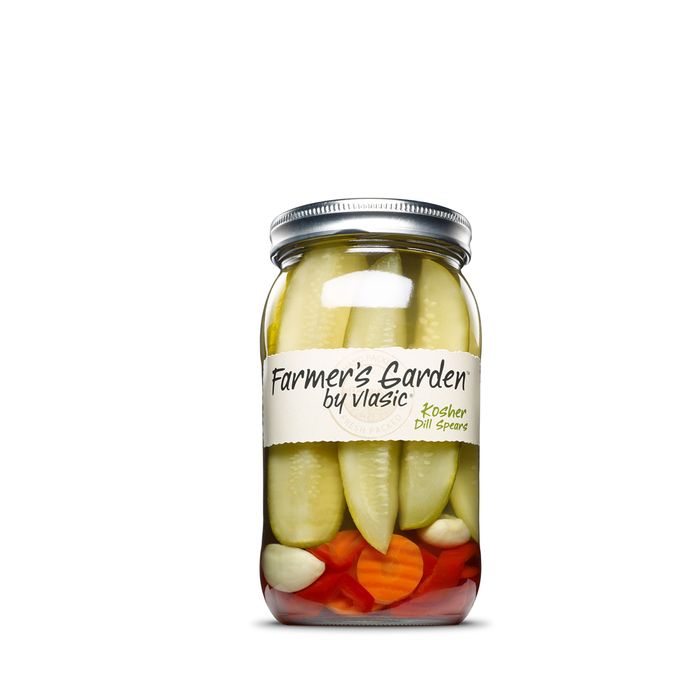 Photo: Courtesy of Vlasic
With all the hype that Brooklyn picklers like McClure's have been getting (Brooklyn Brine just popped up in Hong Kong!), you gotta figure old-timers like Vlasic have been feeling a little bit unhip. And that's why we weren't exactly surprised to hear that tonight at David Burke Kitchen, Vlasic will host a "unique farm-to-table journey" — a private tasting of its new "artisanal pickle" line, "Farmer's Garden." The publicist's tease didn't say much about the pickles other than that they're "hand-picked, hand-packed, all natural" (oh, and these are "aspirational pickles"), so we got Stefan Aps, the director of marketing at Pinnacle (Vlasic's parent company) to tell us just what's so aspirational about these cukes.
Unlike Vlasic's regular line, says Aps, these contain no preservatives, artificial colors, or artificial flavoring. The cucumbers come from Michigan farms in the summer and from southern states like Florida in the other seasons (and maybe from Mexico if demand should exceed supply). They're delivered to manufacturing facilities in Michigan and Delaware. Within a few days, they're packed (for the sake of "color vibrancy and flavoring") with "visual inclusions" that include whole garlic cloves, pepper strips, whole peppercorns, and carrot slices. Those go in first, then the brine and cucumbers are added by hand as well (there are, of course, assembly lines and conveyor belts involved in this process). There's a two-to-three-week "calibration period" as the cucumbers absorb the flavor of the vinegar, garlic, and such, and then it's off to your local supermarket, where we're told the bottles will sell for a suggested $5.49 — anywhere from 75 cents to $1 more than the usual Vlasics.
As you can see, the jars have a bit of a Brooklyn Brine look, though 24-ounce jars of Brooklyn Brine go for just a little bit more — $10.50 at Marlow & Daughters. So what do you think, Brooklyn jarheads? Will you give these "aspirational pickles" a chance?