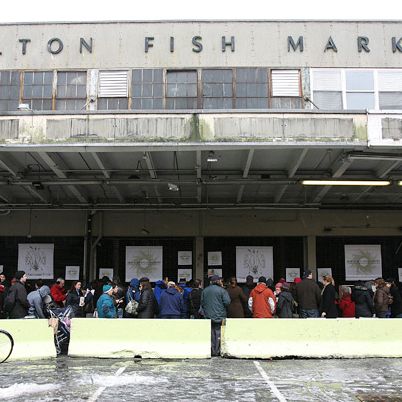 Photo: Robin Riley/Courtesy of the New Amsterdam Market
The New Amsterdam Market kicks off its summer season this Sunday and continues most Sundays till September through December, from 11 a.m. to 4 p.m. A few things of note: Maryland crab cakes start-up National Crab will try to steal some attention from Maine lobster rolls; Greenpoint's Bellocq Tea Atelier (currently selling its full-leaf, organic teas only by appointment but soon opening widely) will be pouring iced Thai basil-lemongrass tea; Pie Corps will sell sweet pies (rhubarb, etc.) as well as savory ones, such as a fried-chicken pie with buttermilk gravy and greens; P&H; Soda will team with La Newyorkina to introduce ice-cream sodas (and in other ice-cream news, Early Bird Cookery will be serving goat-cheese-and-walnut ice cream as well as other flavors — including perhaps hay! — starting June 12); and finally, sometime this month Brooklyn Brine will be frying lightly pickled seasonal produce.

We're told the fried pickles paired with seasonal condiments like ramp aïoli and garlic scape oil are a preview of what's in store when Brooklyn Brine, which has been sharing kitchen space with Mile End, opens a brick-and-mortar location later this summer, in a location that has yet to be announced (safe to say it'll be in Brooklyn). As for the New Amsterdam Market's 40-plus other vendors, check them out here.
Correction: Brooklyn Brine will be previewing the brick-and-mortar location sometime this month, not this weekend as stated in a previous headline.