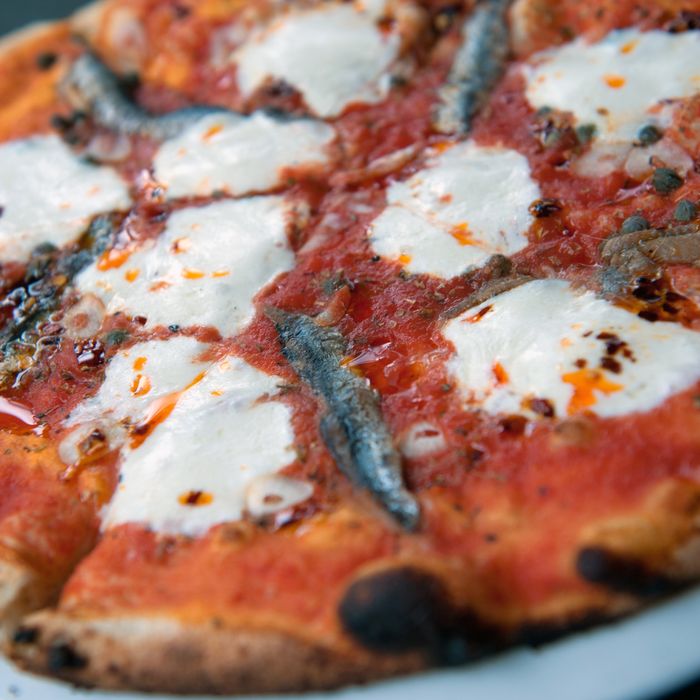 The anchovy pizza at City House.
Photo: Keith Miles
Each week on the Food Chain, we ask a chef to describe a dish he or she recently enjoyed. The chef who prepared the dish responds and then picks his or her own memorable meal. On and on it goes. Last time, Txikito chef Alex Raij called Ashley Christensen's Royale at Poole's Diner in Raleigh "over-the-top delicious." Now we want to know what makes Christensen hungry. Take it away, Ashley.


Who: Ashley Christensen, chef-owner of Poole's Diner in Raleigh, North Carolina
What: Anchovy pizza
Where: City House in Nashville
"The dish is a salted anchovy pizza. I'm a fan of salt — I love the brininess of it. So the components are housemade dough with salted anchovies, capers, housemade mozzarella, and chile oil. Tandy Wilson, who owns it, has a really neat operation there. The concept is it's Italian, but he only allows himself to import five ingredients. I think two, three, four, or five are on this.
They have a really beautiful wood-burning brick oven. Everything is super fresh and delicious. They do a really beautiful job of pulling mozzarella, so you get the fresh, pillowy mozzarella, super-briny anchovies, and then the kick — it hits all the palate spots."
City House chef Tandy Wilson responds:
"We do a lot of Southern ingredients and Southern flair in our cooking. The way I like to compare it is grandmothers to grandmothers: I like to think Italian grandmothers aren't that different from Southern grandmothers. We make our pizza here in house. It's a very simple five-ingredient dough. We use San Marzano pizza sauce — simply pureed San Marzanos with salt. Salt-packed anchovies and salt-packed capers from Sicily that we soak and prepare here. We make mozzarella in house, but it's BelGioioso from Wisconsin. We bake it in our wood-burning oven at about 750 degrees. We finish it with chile oil — we just take dried chile flakes and bloom them in olive oil and that finishes the pie. There's a little oregano and freshly shaved garlic as well.
It's got this punchy, not like salty salinity, but you know when people talk about a product like bottarga? It's got that kiss of the sea. It's like eating a really great briny clam or a really great East Coast oyster; you get that brininess, awesomeness from it. It's absolutely my favorite pizza."