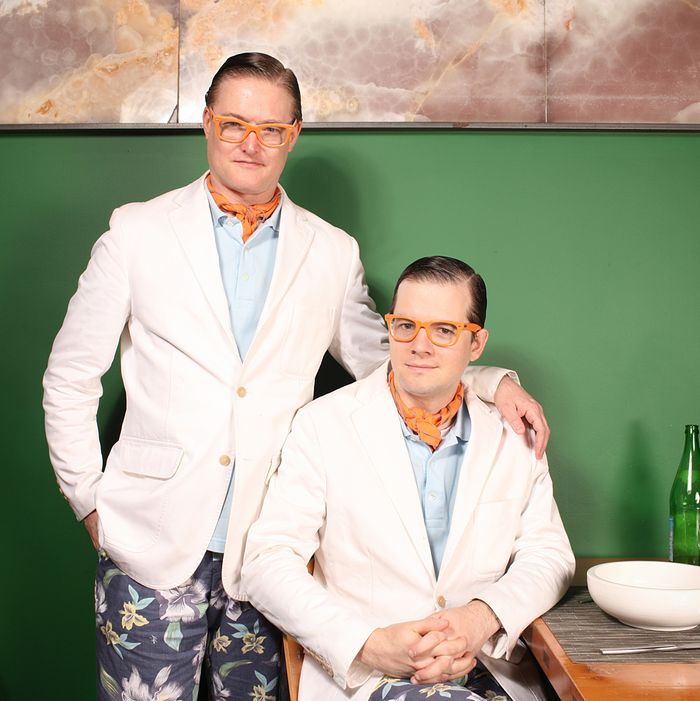 Andrew and Andrew dine at their new neighborhood favorite, wd~50.
Photo: Melissa Hom
Let's get this out of the way: In addition to being D.J.'s, designers, interior decorators, and commentators, AndrewAndrew is also two distinct people. Sort of distinct, anyway. They dress alike, live together, do all the same things together, and — most importantly for our purposes — eat together. In fact, they just moved to the Lower East Side last week and made an agreement to try everything: "We really wanted to experience the traditional Lower East Side restaurants," explains an Andrew. "We probably overindulged." Speaking of indulgence, the singular duo admits to making one special purchase for their new pad, a silver Champagne bucket: "If you come over to our house, it's almost necessary that we offer you a glass of Champagne," says the same Andrew (at least we think it was the same Andrew — this was over the phone). In any event, for tales of shared neighborhood exploration, read on in this week's New York Diet.
Friday, June 17
We made a pact that on the first day we woke up here, we'd go to the Clinton Street Bakery. So we did that and had an amazing breakfast. For a long time, we would each order two of the same dishes, and realized, after seven years of doing that, that we were cheating ourselves, that since there are two of us we could each order something different and share. So we might sound like we're either eating way too much food or way too little food, but keep in mind that everything we order would be shared and split down the middle. So we had the Spanish Scramble and the Country Breakfast. And two Bloody Marys, to start with.
Oh, yeah — excellent Bloody Marys.
We thought that our newfound local status would mean that we could show up at a weird hour and get in without a wait, but there was still a little bit of a wait. Then we had a light lunch, actually — just dumplings at Prosperity Dumpling, where they literally do four dumplings for a dollar, like fried-pork dumplings. The last time we had dumplings that cheap was in Shanghai. And the dumplings are very — they're not as good as the ones in Shanghai, but they come close.
Dinner was at Felidia. It was a tasting menu with a wine flight. You're gonna kill us, because we don't remember what we had. But we just know that it was all delicious. We had an amazing meal, though — a whole ten-course tasting menu. It was really, really delicious. Unfortunately we don't recall it because of the wine flight. Oh, that's right, we had the martinis to start! We weren't planning on, like, getting the whole tasting menu, but we're kind of suckers for that. We don't go out saying, "Oh, we're going to have the tasting menu," but if it's available, more often than not, we'll have it.
Saturday, June 18
We nixed breakfast because when we were walking around, every place we went seemed to be closed or having a photo shoot or something. We ended up at Balthazar, and we just missed their breakfast, so we decided to go to lunch there. We had oysters, a burger, and chicken club sandwich — which is like the boringest thing to get at a place like Balthazar.
And we started off with two Bloody Marys!
Right, of course — two Bloody Marys.
For dinner, we did go back to Clinton Street Bakery for chicken and waffles. But without the chips — we got it with beet salad, for health. Although we did get the potato skins, which were amazing. Like deadly potato skins there. But actually, the beet salad — we've been really into beets lately.
We are! Generally we don't believe in reading the same book twice, or seeing the same movie more than once. In fact, we're trying to make a pact to eat at a different restaurant every day. But it's hard when you find something you like. There used to be a noodle shop over on the Upper East Side we used to go to every day, and I'd get the exact same thing every time. So, you know, we're trying to switch it up.
Sunday, June 19
So Sunday, Fatta Cuckoo. Another round of Bloody Marys. They have the the hot peppers that are extremely hot! And I was dubious, because I'm not a fan of quiche, but what kind of quiche was this?
Usually we get quiches that are too dry or just chewy, but this was all the consistency of sublime. It was just sublime. It completely changed my whole opinion of quiche. And then we also ordered the pesto, potato, and applewood-smoked-bacon frittata. You know how we say we share? We sort of had a little … there was a problem with the quiche, because we both wanted more of the quiche.
Then for lunch that day we went to Peels, and they do corn dogs with Creole mustard, which we find ourselves ordering every time we go. I feel like it's embarrassing to order the signature ironic dish of a new, hip place, but it's good, so what are you going to do? They should get a medal for bringing back the corn dog. And then of course, the quinoa salad.
The other thing that pops up here a lot is quinoa. The red-quinoa salad there is really underrated, I think. It's really hearty; it's really good. They used to serve it in a weird jar. They used to serve it in like a mason jar.
They stopped doing it. I wish they would go back to the mason jar. And I wish that they would bring back moonshine. They had a moonshine milkshake. I think we were the only ones who ever ordered it.
We have a tendency to go to restaurants, especially things like ice-cream parlors or doughnut shops, and we ask for the worst-selling item. But then, of course, we talk about all the food in our new neighborhood and what drew us here. The biggest, probably, was the crown jewel of what drew us to this neighborhood: wd~50. One of the reasons we decided to move where we were is because it's within a block from wd~50.
It was the prospect of not only eating there, but also starting every evening with cocktails there, and/or ending the evening with cocktails there, that was pretty irrefutable. We sat at the bar. We never make reservations, so we've actually developed a real affinity for bar dining, and especially at wd~50. You've got this great window so you can see the street life pass by. So we had the cold fried chicken with buttermilk, ricotta, tabasco, and caviar —
Which was fantastic.
It's been on the menu forever there and it's always freaked me out. And we had the corned duck on a rye crisp, which is really good, except the portions should be like half the size. It looks like an hors d'oeuvre, something that would be passed at a cocktail party, and you kind of want to pop the whole thing in your mouth, but it's a few too many chews. And then the peekytoe crab roll with salt and vinegar chips and celery mayo.
And to drink … I think, for the most part, whenever we go, we usually tell the bartender to just make us a drink. We usually say gin, clear, not sweet, or tequila.
If you're going to go mixology, I kind of want to give them a challenge, and I feel like tequila is really hard to make a good cocktail with.
The thing with wd~50 is that you have to have an open mind, and you have to go there for adventure. And so whenever we have one of their tasting menus, we always say, surprise us. Test stuff out on us. We've had some misses there, and they kind of knew they were misses. We like to be experimented on. We consider ourselves sort of the lab rats of the culinary experience.
You're going to have another meal in a couple hours or the next day anyway, so why not try something that might be revolting?
Monday, June 20
We got bagels. We attempted to go to Clinton Street Bakery, but it was too much of a line, so we walked down the street to Atlas, and Atlas is this small bagel shop that imports their bagels from H&H.;
With the cream cheese from Russ & Daughters. The caviar cream cheese. So important.
Lunch was at the Breslin at the Ace Hotel. We had a meeting nearby and so we went. The Ace is just a perennial favorite, whether it's John Dory or the Breslin or the sub sandwich shop. If you go to the Ace hotel, no matter what time of day or what you're in the mood for, you can find something there.
It's kind of like the cool person's version of the Time Warner Center.
So we got the herbed Caesar salad with anchovy croutons. Wherever we go, we always try the Caesar salads. It's sort of an indicator of what you're in for. This one had full anchovies, which is kind of amazing in this day and age. People don't really do that. And then obviously, you can't go there without ordering the lamb burger. Actually, we learned a very valuable lesson. The smart thing to do is … the lamb burger alone is a bit too much. It's a bit too heavy for lunch, so by cutting it in half, we had half the salad and half the lamb burger. It's the perfect amount of food for the afternoon meal.
Also, the lamb burger comes with thrice-baked "chips," which are French fries, and I think that's a little ridiculous. We're in America. You should just call them French fries.
For dinner, we sort of were in the mood for a German restaurant. There's a new German restaurant called Edi & the Wolf, but they were closed by the time we decided to actually eat, so then we went to Macondo right on Houston. Partly because of its location and partly because of the decor, you always think it's going to be kind of touristy, but the food there is always way better than you think it's going to be. We had a quinoa beet salad.
Look at that! A combination of our two things: quinoa —
— and beets.
And then we had the chicken mole enchilada. Andrew's a huge fan of mole. And then the Cuban roast pork special with mojo de ajo, which is a fruit sauce. That was incredible. The pork skin was like one giant piece of bacon with spices on it. That was a really happy meal.
Tuesday, June 21
Breakfast Tuesday was the same: bagel with cream cheese, caviar. And then lunch, we had Lil' Frankie's pizza. We had the polpettini pizza, little meatballs. And it's just a no-brainer because we do our radio show on Tuesdays at East Village Radio, which is literally right next door to Lil' Frankie's. It's kind of a thing you can't really refuse.
So then that night we had dinner at Quantum Leap, which is a sort of vegan, macrobiotic spot. We had the macro platter, which is beets, steamed garden vegetables, kale, beans, hijiki seaweed, and brown rice, with burdock sauce.
What is burdock sauce?
It's like a dark sauce. And then of course the Big Leap burger, which is a veggie burger, crispy onion rings, avocado slices, cheddar, horseradish, mustard sauce. I don't know if that Cheddar is like, vegan Cheddar?
It's probably fake Cheddar.
The thing with macrobiotic diets is the only alcohol you can drink is rye.
Rice wine and rye. Champagne is not macrobiotic.
Wednesday, June 22
We had the same breakfast, and then we were having a meeting at some local bar, and this producer we were working with insists that we go to Baohaus for lunch. We literally thought that was a design store until this producer guy was like, "No, you should go and have a bao sandwich there." It's kind of dirty. I felt like every service could use a wipe-down.
The tofu bao was really delicious. I'm not a big fan of tofu, but even if you're scared of tofu, I would recommend bao tofu with peanut. There's peanut on everything. It's a great place; you can just pop in, pop out, get a quick bite. And then in the evening, a friend of ours has a gallery, Allegra LaViola, over on the cusp of Chinatown, a block away from East Broadway. In the summer, she'll have these barbecues in the gallery. She has a little outside area. So it's just like, classic hot dog with yellow mustard, but actually all the fixings were kind of fancy. We had a salad with green beans and blueberries, which was bizarre.
Her barbecues are always a great treat because there's everyone. There's artists, there's collectors. You always meet really interesting people. It's a really casual atmosphere, people wearing shorts, there are kids there. It's a good deal, and it's nice to do in a gallery, in a place where everything is so precious and you can't touch anything, to be eating stuff with hot sauce on it.