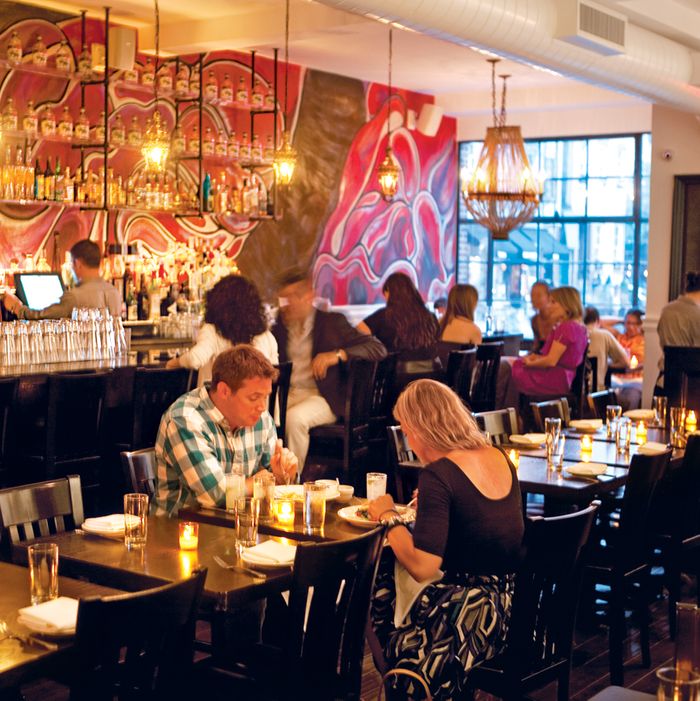 Empellón.
Photo: Michael Allin/New York Magazine
In this week's New York, Adam Platt reviews Empellón, former wd~50 pastry chef Alex Stupak's foray into Mexican cooking. Our critic finds the place to be "a casually elegant Mexican restaurant that has been designed … to appeal to the new breed of scruffy, tattoo-bearing, avowedly non-gourmet culinary sophisticates." Foodwise, he falls for the "pleasingly gooey quesos fundidos," "inventive ceviches," and most especially the tacos, such a tasty "parade of gut-busting delicacies" they render most of the entrees an "afterthought." The grub and very good drinks program earn the restaurant two stars.
Meanwhile, the ice-cream trend doesn't stop, though in the case of ice-cream sandwiches, things have gotten more creative. Robin Raisfeld and Rob Patronite round up versions made with macarons, peanut-butter cookies, and even brioche. The Robs have also been busy tracking the city's openings, including another source for frozen dessert in the form of a Nawlins sno-ball shop; Smith Canteen, an offshoot of Brooklyn's Seersucker; and the second coming of St. Anselm, this time with mussels and pork chops. The Underground Gourmet also looks at Marc Forgione's Father's Day menu, a tribute to the chef's own pop.
Also in the issue: The High Line's second segment is about to open, so here's where you can grab a bite. If you're lunching alfresco up there, be sure to concentrate on what you're eating as it may prevent afternoon snacking. And lastly, here's a recipe for using lovage, that intensely celerylike herb, in an Italian-style salsa verde.