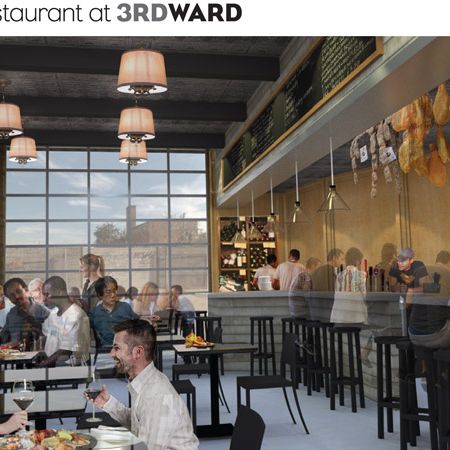 A rendering of the potential café.
Photo: Courtesy 3rd Ward
Brooklyn "incubator for innovation and possibility" 3rd Ward has been known to teach the occasional knife-skills class and host the occasional barbecue, but now the organization is getting serious about food. A request for proposals released today announces a planned café, part of 3rd Ward's recent expansion. Whoever bids successfully gets a bunch of perks, including "up to $85,000 for build-out," "usage of our pending liquor license," and a "blank-slate" indoor-outdoor space that's "ready when you are." Sounds pretty appealing, considering the usual opening hurdles.
According to a rep for the project, 3rd Ward has its eye on a number of high-profile prospective tenants (a consultant, Jon Feldman, has worked with Frankies and Del Posto). Letters of interest are due July 8, and the deadline for proposals is July 22 (see details here). Let's hope they get a few more applications than the Parks Department did recently! In other 3rd Ward news, its Goods trailer, which was reported back in April to be on the market, is still on the premises and "we're juggling a few options right now," the rep tells us.