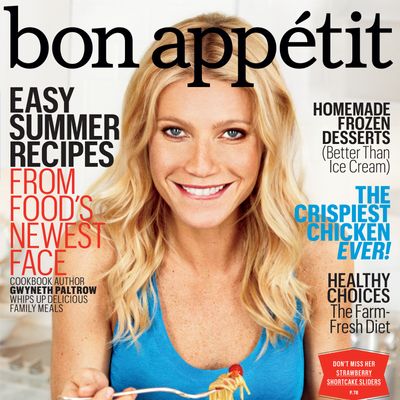 It's really her!
Photo: Matt Jones, Courtesy of Condé Nast
ZOMG! The rumors were true! Gwyneth Paltrow does indeed grace the June cover of Bon Appétit! And if the spaghetti on the May issue didn't convince you that Adam Rapoport's new vision of Bon App is upon us, then maybe this shot of the woman who played Margot Tenenbaum will! It's an interesting move for the magazine, since its covers — the covers of all food magazines, really — have always traditionally focused on food or chefs. If anything, the choice is certainly something that has made the food blogs pay attention! Think about it: When was the last time you saw us writing about Food & Wine's covers? So that's exciting! But we wonder, will it make people outside of the food-media world actually take notice?
(I should just mention here that I worked at Gourmet and Food Network Magazine before coming to Grub Street.)
But so: What does Gwyneth's visage really signal within the food world? Magazines have been putting celebrities on their covers for pretty much as long as magazines have existed, so it could be argued that this move isn't particularly groundbreaking — it's a food magazine just doing what other magazines have been doing forever. (Whether they'll keep doing this, we're guessing, will be completely dependent on the newsstand sales numbers.) Of course, it could also mean that food magazines have now, for the first time, really gotten to a point where they're competing for attention with general-interest magazines; food mags are not just a collection of recipes to make for your family, or stories about which wines offer the most bang for the buck — they're about the culture of food.
That certainly seems to be the case with the new Bon App anyway. When we spoke with Rapoport last month, he didn't make a point of articulating how he thought BA needed to stand apart from the competition ("I think it's up to the reader to decide what differentiates us," he told us). But it seems clear to us that the magazine's focus has landed squarely on "food as status symbol." It's aspirational. The June cover doesn't say "here's a magazine about making dinner"; it says "here's a magazine that will show you how to make dinner like a movie star." And the May issue had that story about lunch with the Missonis. If Gourmet was "the magazine of good living," then Bon Appétit has become the magazine of fashionable eating.
This much is clear: Gwyneth Paltrow is very famous, and very-famous people will always be better at selling magazines than photos of a chocolate cake will be. So they're going to move some copies. But is there going to be an audience for this? Maybe! To some extent, there already is: Bon App's circulation is a healthy 1.6 million readers (For comparison: Food & Wine lists theirs as just under a million [PDF link]; Every Day With Rachael Ray hovers around 1.8 million [another PDF]; Food Network Magazine lists its advertising rate base at 1.3 million [another one], though newer figures have that number closer to 1.5; and Saveur's rate base is 325,000 readers [last PDF!].) We guess the thing to wonder is really whether or not the magazine's new direction will bring in more readers, or make more people interested in food.
We can't imagine that the reader who maybe doesn't love food and just wants some ideas for things to make for dinner is going to be swayed, nor is he or she going to be particularly interested in a story about where the guys who own Frankies like to eat while they're in Denmark, another story in the June issue. Similarly, we're wondering if the reader who is interested in something like that, or the magazine's stories on Fergus Henderson and wild shrimp, would look to a magazine with Gwyneth Paltrow on the cover to get that information.
Really, though, it's probably just a matter of time before Rapoport starts popping up on TV to promote the magazine, maybe even in conjunction with Gwyneth. And if it's on the Today show, all bets are off because people will buy pretty much anything Matt Lauer's selling. Actually, we wonder if Lauer would be available to do a story about quick breakfasts? He has to get up so early, after all. Maybe we could run it in September? Peg it to getting everyone ready for back-to-school? We should look into that.
We're Getting Personal [Bon Appétit]
Gwyneth Paltrow, Fergus Henderson, The Franks Headline June Bon Appetit [Feast]
Related: Adam Rapoport Discusses the New 'Bon Appétit'