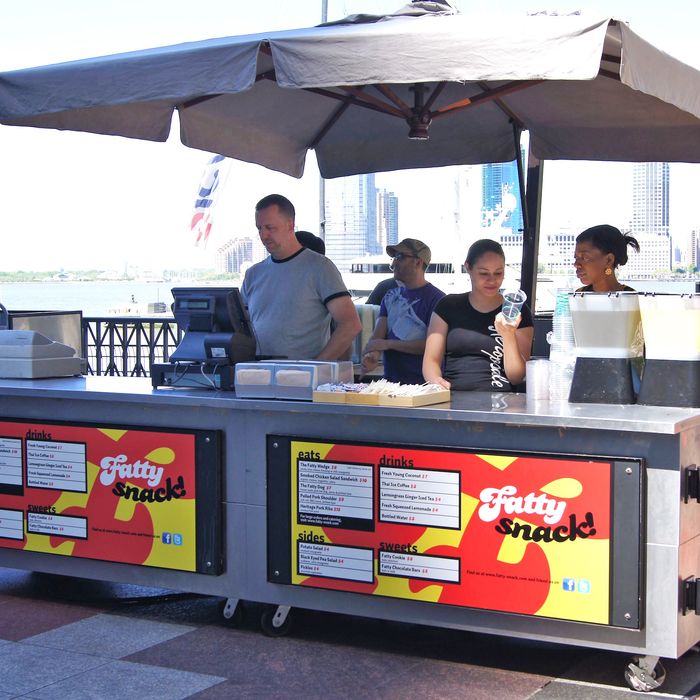 The Fatty Crew is busy, busy, busy! After Pelaccio et al launched their pop-up at LTO last night, reps sent word that Corwin Kave of Fatty Crab and Kevin Pomplun of Picnick Smoked have fired up their charcoal grills at the Fatty Snack kiosk and it's now open at World Financial Center. Here's the 'Cue-Crab hybrid menu that will be served daily from 11 a.m. till 7 p.m.
EATS
The Fatty Wedge | 6
(add chicken |2 … add bacon | 2)
smoky blue cheese dressing or chili vinaigrette

Smoked Chicken Salad Sandwich | 10
organic chicken, baguette, celery

The Fatty Dog | 7
house made pork hot dog, spices & pickled slaw

Pulled Pork Sandwich | 9
soft roll, BBQ sauce, pickled slaw

Heritage Pork Ribs | 12
smoked fish palm

SIDES
Potato Salad | 4
mustard vinaigrette

Black Eyed Pea Salad | 4
scallions, curry vinaigrette

Pickles | 4
assorted vegetables

DRINKS
Fresh Young Coconut | 7

Thai Ice Coffee | 3

Lemongrass Ginger Iced Tea | 4

Fresh Squeezed Lemonade | 4

Bottled Water | 3

SWEETS
Fatty Cookie | 3
daily selection

Fatty Chocolate Bars | 5
dark or milk
Fatty Snack, World Financial Center Plz., nr. Vesey St.