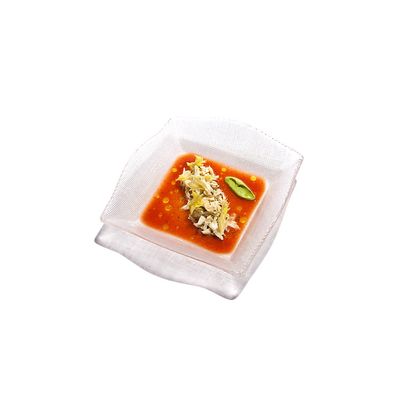 Dressed Crab, Bloody Mary, Green Goddess
Photo: Danny Kim for New York Magazine
Oh, hey: The Dutch quietly started serving lunch yesterday. In fact, Carmellini et al. are being so quiet about "Lunch Time at The Dutch" that reps didn't want to send over a menu until next week, when all the kinks will have been smoothed over (reservations won't be accepted till Monday; in the meantime, they're taking neighborhood walk-ins today and tomorrow). But let's face it— the Dutch is now the place to go if you're in from out of town (witness recent dispatches from Michael Bauer of the San Francisco Chronicle and Jonathan Gold of LA Weekly), and there's no way this was going to hold. So with thanks to our covert luncher, let's have a look at the menu now being served.
Lunch Time at The Dutch

Appetizers
Eggplant dip with savory chips - 8
Local beets, smoked egg, dill - 13
Spring salad, butternut dressing, Parmesan - 13
Jersey asparagus salad, kaffir-curry sauce, peanuts - 14
Chilled organic carrot soup, ginger, and lime - 8
Hiramasa, daikon, soy & myoga - 15
Dressed crab, bloody mary, green goddess - 17
Barrio tripe, beer, avocado - 12
Asian white boy ribs - 12

Sandwiches
House-smoked turkey, potato bun, avocado, green sauce - 15
Sloppy duck, peanuts, cucumber & mint - 16
Burger, cheddar, Orwasher's bun, secret sauce - 14

Seconds
Smoked ricotta ravioli, tomato & soft herbs - 17
Sea scallop, spring peas, bacon, pickled ramps - 23
Steamed stone bass, arroz verde, citrus, achiote - 26
Hot fried chicken, honey butter biscuits - 19

Sides
Housemade fries - 6
Root spinach, shallots & chili - 6
Asparagus, citrus breadcrumbs - 8

From the Oyster Room
Malpeque, P.E.I. - 3
Wellfleet, MA - 3
Kusshi, B.C. - 3
Effingham, B.C. - 3

Peel n' eat sweet Hawaiian shrimp (red remoulad) - 19
Crab claws (roasted tomato salsa) - 18
Seafood ceviche (Champagne mango, lime, red onion, 17)

The Sullivan platter - 75
The Prince platter - 125

Fresh Pies Made Daily
Just ask!