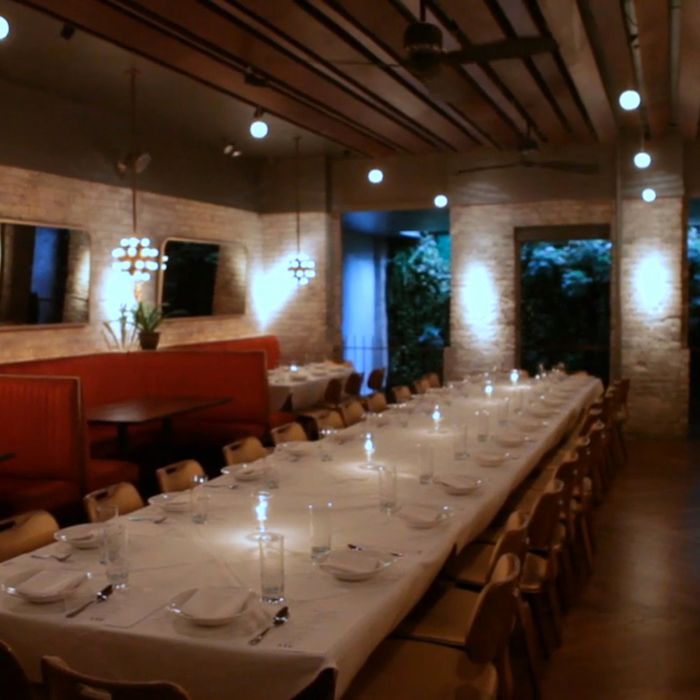 News from LTO today: The one and only Eddie Huang of Baohaus and Xiao Ye will be replacing current pop-up chef Leah Cohen when her stint ends there (by the way, tonight as well as tomorrow and on Friday, Cohen is offering a $55 three-course dinner in addition to the five-course option). From June 3 till 9, Huang will serve a five-course family-style dinner that's $88 per head, with the additional option of pairing courses with Four Loko beer, Champagne, and a Pimms Cup. The feast, as you can see from Huang's explanation as well as the menu, is centered around blue crabs, and Huang isn't the only one doing the crab thing: The Mermaid Inn has announced that from Sunday till next Tuesday, all three locations will be offering a crab boil complete with the bibs and mallets. $24 gets you a bucket of Maryland Blue Crabs, cornbread, red bliss tomatoes, and grilled corn on the cob. Here's Huang on the LTO dinner, plus a video documenting the Fatty Crew's recent stint at the restaurant.
Born in the DMV, raised in Florida, made in NY, this is what American food looks like to me. Go into any Chinese person's home on Thanksgiving and you probably have turkey with fried rice and some sort of horrible Great Wall Wine. For chinos near the Potomac, blue crab season was better than thanksgiving. We'd catch crabs with raw chicken on a rope and steam them with old bay. You took the crabs out on the back porch and every thing was eaten over the Sunday Post. While neighbors ate them with corn and potatoes, we'd pair it with homemade pickles, cold noodles, and maybe even sliced beef tendon. This June at LTO, we're gonna do a blue crab dinner inspired by the Chinese South. In New Orleans, you see Vietnamese people bringing their flavors to crawfish and po boys. In Atlanta, Koreans set up shop alongside Waffle Houses. Well, this Chinaman came to New York, and this is what he eats.


Fresh Off the Boat Dinner


First Course

Icebox Duck Wings

Fried Oyster Po Baos w/ Pate

Hunan Corn Kernels w/ Leeks and Ham Hock

Chino Boudin Sausage


Second Course

Sesame Liang Pi Salad

Salt Cod and Chinese Broccoli Fried Rice

137 Fried Gator Tail

FOB Chicken


Third Course

Hush Puppies

Shanghai Steamed Blue Crabs

DMV Steamed Blue Crabs


Fourth Course

Soy Caramel Bread Pudding a la Mode


$88/person Served Family Style
Pairing: $55
Champagne, Gruner, Juicy Red, Beer, Pimm's Cup

Fatty 'Cue at Limited Time Only, NYC from ListenIn Pictures on Vimeo.