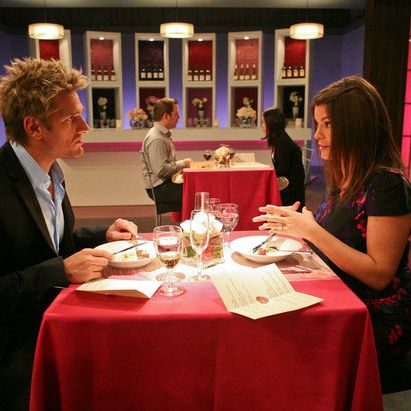 That's a pretty intense stare.
Photo: Nicole Wilder/Bravo
Only six chefs remain at the top of this week's episode, meaning we are drawing ever so nearer to the finale. Does that make you a little bit sad? Couldn't you watch this show forever? Anyway, the chefs walk into the kitchen to find a surprising selection of apparatuses awaiting them? "Oh gosh, a nose thing?" says Traci. Yes, but there's more: headphones, blindfolds, and nose plugs. It looks like it's gonna be a sensory deprivation Quickfire, and then Curtis explains that it will be exactly that, with five rounds to test each of the Masters' senses. The bad news is that the winner no longer gets immunity. Traci, reacting to the news, says, "I think we're all terrified," sounding like a contestant on a reality show where the stakes are real.
Hugh and Mary Sue are the last two remaining, but they both fail to recognize the sound of Rice Krispies in milk — astonishingly, he thinks it's tapioca — which is just inexcusable. Hugh rebounds and proves he has the ears of a canine by identifying the sound of an oyster being shucked and toast being buttered. "It's fun to look at how interconnected all of our senses really are," he says, but it's not fun for the viewers.
All of a sudden it's time for a random individual named Chris to enter the kitchen and talk about Victoria, his girlfriend of four years. You see, these have been the best four years of his life. "She doesn't see this coming; she doesn't think I'm ever going to do this, but … I'm going to propose to my girlfriend," he explains, leaving us to ponder whether there might be some issues there. Everyone nods awkwardly; only Naomi can muster, "Congratulations, that's awesome." But then she makes googly eyes at him as he shows off the ring, and it seems like she may have a crush. "I don't know what I would do if someone was paying that kind of attention to me," she intones, which is just kind of sad.
So the chefs have to put together a six-course meal for a date night for 21 couples, including the critics, and the dishes have to be based on moments from Chris's relationship. They flash some photos of the couple that we don't want to see and Hugh becomes our favorite when he quips, "This is poignant and makes me want to throw up in my mouth." Honestly, the guy's culinary tastes leave a lot to be desired: He had to be tricked into eating salmon, was introduced to sushi at a late stage in life, and has never eaten shellfish. Mary Sue finds the idea of people who have never eaten shellfish getting married absurd, as though moules frites has the power to keep people from getting divorced.
We learn some things about the chefs' personal lives: Mary Sue is married to partner Susan Feniger's ex-husband (so weird); Celina was not proposed to but is married; Floyd had an amazing first kiss with his wife; and Hugh met his future wife when he was 11 and she was his sixth-grade teacher (just kidding).
There's not a lot of drama in the kitchen, but Mary Sue cuts off the tip of her thumb, and Traci is working with an inaccurate scale, which could spell doom for her dessert. Naomi says "the competition is heating up dramatically," but we beg to differ. Floyd says there's no point to living without romance but, you know, no judgments.
And date night is on! But it's weird, because it's really just 21 random couples and no one knows each other or about the impending engagement. Curtis is Gail's date, and James is Gael Greene's date (hot new couple alert!). The food comes out and some of it looks good, but Hugh's steak is chewy, Celina served a pretzel next to a salad, and Traci's apple galette was dry. Chris is awkward with his girlfriend, but it works in his favor because she can't tell he's about to propose. Gael talks about her "hour with Elvis" that concluded with her ordering a fried-egg sandwich for him from room service.
Suddenly Curtis stands up and steals Chris's thunder to announce that Chris has an announcement to make. He proposes, she says yes, and they make out on the floor a little bit. Looking on, Naomi and James weep uncontrollably. It feels like the episode should end here, but someone still needs to get kicked off.
Naomi wins for her porcini-braised chicken thighs, which looked nice. Traci, Hugh, and Celina are the bottom three, and — we were right last week! — Celina gets sent home for serving a pretzel with a salad. Weirdly, Mary Sue gets no flack for serving seafood stew to the couple who doesn't eat seafood. Anyway, Celina is "super bummed" she didn't win any money for her charity, but this isn't Jeopardy and they can't just give the money away to everyone.
Next week: cooking for an edible science fair! Ruth returns! Padma is there?