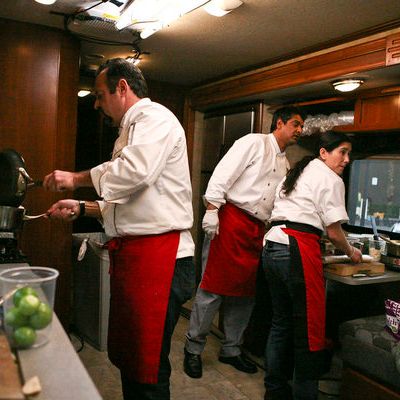 Cooking on an RV: not degrading at all!
Photo: Nicole Wilder/Bravo
We begin in the kitchen with a beautiful display of ingredients — black truffles! Foie gras! Diver scallops! — and it seems like the chefs might be able to cook what they want with amazing ingredients for once, which is really what this show should be every week. Curtis is wearing a shirt he stole from the set of Star Trek: The Next Generation bought at H&M; and explains this week's Quickfire: they have seven minutes to make a dish, besting the record set by Tom Colicchio when he made a delicious-looking dish in little more than eight minutes on the last season of Top Chef. Celina is desperate to win because her charity hates her for not winning any money yet (spoiler alert: won't change in this episode).
Most of the chefs are lazy and decide they're not going to cook anything, opting instead for carpaccio, crudo, ceviche, etc. Hughnibrow thinks it's a good idea to undercook tuna and chop it up. "I may be making the most elaborate cat food of all time," he beams. Mission accomplished. Everyone's jaws drop when they see Naomi searing a piece of foie gras, which is neither difficult nor time-consuming, so chill, you high-strung messes.
Instead of being caged up in a room watching their food eaten on a TV, the chefs judge and rank each others' dishes from best to worst! Shockingly, no one rates their own dish higher than third place in first place, which is totally something George and Suvir would have done. The best dishes are Naomi's foie gras and Traci's beef carpaccio with black-truffle shavings, which, yum, except that it looks like ragged chunks of flesh with actual dirt on top of it. Hilariously, there is a commercial break before the Quickfire winner is announced, but it's all Traci, for her dirt carpaccio. Congrats, Traci! Please serve that to me in a restaurant never.
Traci picks Hughnibrow, Naomi, and Mary Sue to be on Black Team for the Elimination Challenge; Red Team is Floyd, Alex, and Celina. But what's the challenge? The men of Maroon 5, "one of the biggest bands on the planet," show up on a TV to explain that they're coming home to L.A. and want to eat all their favorites: corn soup, Thanksgiving dishes, Mexican food, steak, vegan items. Mary Sue gets viewers' imaginations going with a little story about cooking for the Rolling Stones: "They really are like that. The pool table, bottle of whiskey … Charlie Watts was the only one who ate." What other secrets does she harbor?
The teams will have to prepare their meals in RVs on the way to the Roosevelt Hotel, because working a fast-food joint last week wasn't humiliating enough. Black Team strategizes, and Traci and Naomi immediately butt heads over crucial issues like who will be hitting up the spice section. (When Traci gets angry, she looks like something out of Gremlins 2: The New Batch.) Red Team, meanwhile, is smug and think they have an advantage because three people is better than four, which would be true if they were not the worst three in this competition.
The shopping segment is the same as every other episode you've ever seen.
Back in the RVs, things get hot and messy pretty quickly. "It doesn't feel right to set a bowl on the floor and toss your salad, but I'm tempted," says Mary Sue. Floyd does most of his cooking in the bathroom, which results in a lackluster steak. Still, he hopes to "bring flavors to things that don't exist." Nonsensical! Alex cooks pasta too early and it ends up overcooked. "It looks like poop," he admits.
Inside the Roosevelt, the judges are tittering as Maroon 5 enters the grotesquely decorated and oversize dining room. "Oh my God, I'm geeked out!" cries James. (Doesn't take much for that one.) Amazingly, there is not a single reference to front man Adam Levine's gig on NBC's The Voice, meaning someone got fired in the synergy department. The judges are all decked out in vaguely "cool" outfits, Curtis in leather jacket, Gail Simmons (!) in studded-shoulders dress.
Red Team's dishes come out and it is a parade of horrors: soggy pasta with overdone broccolini, forgettable spanakopita on couscous, mediocre steak and a too-simple salad, enchiladas stuffed with seitan. Celina's corn soup is the exception, though Adam likes Alex's coconut tapioca. James dismisses him with "taste is subjective." Adam threatens to go on a fork-stabbing rampage in retaliation, but fails to follow through (or that part was edited out).
Back on the RV, Black Team is putting the finishing touches on dinner. Hughnibrow observes that "Mary Sue has covered the bed with tostadas, which is not any fetish I have ever heard of." Traci is still testy and wants to strangle Mary Sue for going on about subpar avocados.
Dinner service starts off with margaritas (always good to ply judges with liquor) and most of the food is pretty good. Mary Sue serves chips and salsa (hard work making that) and vegan tostadas; Traci served Japanese-style steak and everyone loves it. Hughnibrow's corn soup, however, looks like pea soup and tastes "like a bad candle smells" according to Adam. There is a disagreement among bandmates over Naomi's mushroom-laden potatoes. "The mashed potatoes will be your Yoko Ono," warns Gail.
Back on the RV, Mary Sue is loopy and wants to see Hughnibrow's butt crack while he cleans up. Shudder.
Unsurprisingly, the judges summon the Black Team and Traci wins for her steak. That means Red Team is on the chopping block. "The duress came through the food," Curtis tells them, which was kind of the point of this whole ordeal, right? All three chefs are roundly criticized, but Alex — who made four dishes on his own — is sent packing. He's sad, but at least he won $10,000 for his charity. Better than Celina, who will go home without winning anything (hopefully next week).
Next week: Tasting without smelling! Mary Sue loses the tip of her thumb! Hot liquids splash out of pots! Gael Greene is back! "The most awkward moment in television history," according to Hughnibrow!