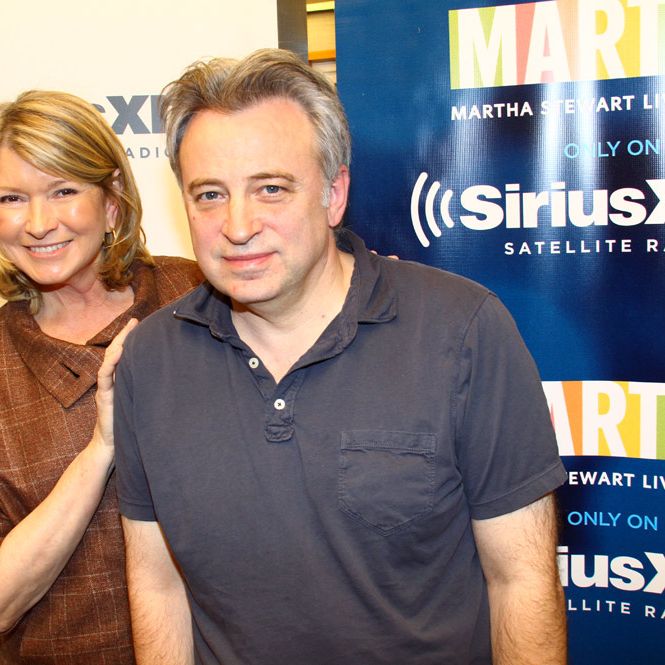 Photo: Maro Hagopian, SiriusXM
Yesterday we gave you the heads-up that Keith McNally was appearing on Martha Stewart's show on SiriusXM. McNally has been called a "bewitchingly self-deprecating and honest man," and after listening to the hour-long interview (not online, unfortunately, though Feast has a few clips), we can report that he certainly proved himself to be just that, as Martha went on and on (and on) about how much she loves his restaurants. He also revealed that he may or may not open a Balthazar London: "I suppose I might, but I'm not sure. I'm in two minds about most things, [and] I'm in two minds about that." The rest of the interview went a lot like that — we've culled a few of the restaurateur's most demure moments below, including his explanation about why he didn't go fetch his Beard award.
"I'd started making short films in London. Pretty terrible… They were worse than that cake you're eating, I think. The coconut cake is better than my short films." -On his initial career ambitions.
"I tried actually to get a job at the Bronx Zoo …. I just applied there, I don't know why. I was just taken with the Bronx Zoo, but I didn't get a job. And then for some reason I backed into the restaurant business. I became a busboy at somewhere called Serendipity." -On coming to New York.
"If you had any bad service that was me, I'm sure." -On being a waiter at Maxwell's Plum.
"I promise, I wasn't very good." -On shucking oysters and clams at One Fifth.
"Ten, so far. No, two.' -On how many times he's been married.
"Actually what I wanted to do was open a sandwich shop to be honest." -On his original plans for Odeon.
"That opened in 1980, four hundred years ago." -On Odeon.
"You probably didn't miss too much … I've never seen one of my films ever, since the first screening. I couldn't bear to see them." -On his first feature film End of the Night.
"It flopped. It didn't work out. It's that terrible thing when things don't work out; you just feel absolutely terrible… My marriage didn't work out and the film didn't work out so I sort of came back to New York and realized — well, it's funny because I had had restaurants (Café Luxemburg and the Odeon) and I never really appreciated them… I only started to like them when I didn't have them and I've got that sort of syndrome I'm afraid. So I went into the Odeon when I'd given it or sold it to my ex-wife and I suddenly thought it was quite a nice place. I'd never thought that." -On his second film Far From Berlin.
"The downside to having restaurants like Balthazar (even Pastis) that work [is] that you're somehow… you don't realize what a shock you're in for when you open a restaurant and they don't work automatically and the reviews are not as good and people don't automatically come and talk about the restaurants. For instance, when Morandi opened it got mediocre reviews and the same with Pulino's. And those are restaurants that you then really have to work hard at." -On successful restaurants.
"Low food costs, I thought you were going to say. It has a low ceiling, it's true!" -On Morandi.
"One's always critical about reviews and I am worse than anyone… We were reviewed after three weeks so that was difficult to accept but I think some of the things in retrospect — after six weeks, eight weeks, I began to agree with some of the criticism and I changed things around." -On Pulino's.
"Most of the ideas come from [the chefs] and then we usually have tastings and I say what I like or don't like, and I very gingerly suggest things partly because I'm terrified of them, and I'm in awe of people who can do things that I can't do, so I tend to be very subservient a lot of time in my relationship with them. No, not exactly that… I think I have an idea of what works and what doesn't work and what I like, not necessarily that I have good taste, but I think I have an okay taste, and I think they respect that to some degree and I certainly respect theirs enormously so we get on well… If I cook, they make fun of my cooking." -On menu planning.
"I'm not very good at it. I actually like thinking of myself as being that person more than being that person." -On making his own cheese.
"I won [a Beard Award for Best Restaurateur] last year… The thing is I didn't go to collect it because I'm in two minds about awards. I really don't like awards. I think awards are prime for community organizers, for doctors, for teachers, but I think for restaurant owners or for chefs — I just think it's all over the top. I think anyone who puts on a black tie becomes self-important to a degree that I find loathsome, you know. So I'm really against awards, I must say that… I don't know anyone who deserves those things, but I'm quite ambivalent about it. I also didn't want to bring too much attention by not accepting it because in a way then you're doing the opposite. You're wanting more attention … I sent my daughter to collect it but she did something quite funny there — the one that's now working at Saturday Night Live." -On the Beards.
"I'd feel intimidated, and I'd feel exposed… I feel useless enough as it is." -On whether or not he goes into the kitchen.
"Well, I'm not sure that I will but yeah… I'm not sure, but we'll see." -On whether he'll open a new restaurant.
"I kind of got fed up with myself eating or watching people eat or wanting to eat. You know, I'm surrounded by food. I don't know why food is so attractive, so appealing. I suppose it is, but … " -On food.