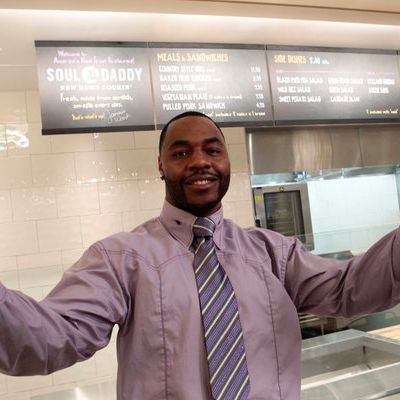 How many seams can one shirt possibly have?
Photo: Chris Haston/NBC
A wise man once said, "A journey of 1,000 miles ends with a single step; and then next thing you know, you take another step and you're off on another journey of 1,000 miles! When will all these journeys end?" In our case, the journey ends at Manhattan's South Street Seaport, a tourist mecca comprised of old mercantile buildings, malls, and piazzas designed for strolling and the eating of ice cream. It was here, on a sun-dappled Friday, that I came face-to-face with my destiny: I was about to dine at Soul Daddy, which, according to America's Next Great Restaurant, is America's next great restaurant.
(For those wanting to cut to the chase, here's my six-word verdict: "Not as salty as Boston Market.")
The first thing you notice is Soul Daddy's interior; it is clean and bland and entirely without soul. Some of the construction seemed slapdash — I took a photo of a railing that wasn't flush with its post, and the only reason I'm not sharing that photo with you is because I don't want you to think I have restaurant-interior OCD. Suffice it to say, the restaurant looked like it had been constructed in haste and could be torn down and shipped to a prop warehouse in a matter of minutes. (Am I saying this because I am skeptical of ANGR's commitment to the sustained success of Soul Daddy? I am.)
My dining companion thought Soul Daddy looked like a Chipotle — all the brushed metal and wood finishes and whatnot. I explained to my friend that Steve Ells, the founder of Chipotle, was behind Soul Daddy. I could almost see the conspiratorial gears whirring inside my friend's head, as they had been in mine for lo these past nine weeks.
Anyway, onward: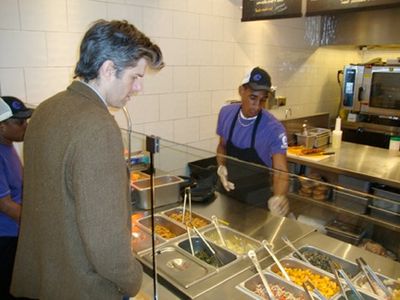 Ordering at the counter. Heat lamps are obscured by your recapper. I found the staff cheerful, helpful, and abundant — I counted at least twelve people working in the counter/kitchen area.Photo: John Kearney

My friend and I ordered the roast-pork combo and the baked herb chicken combo (I later poured out a 40 of canola oil for Bobby Flay's late, lamented fried chicken). We also splurged on two iced teas — unsweetened for my friend, sweetened for me (he's from the north; I'm from the south). The bill came to $22.50, which seems reasonable for lunch in a Manhattan tourist trap, but a bit much for fast-casual lunchtime noshin'.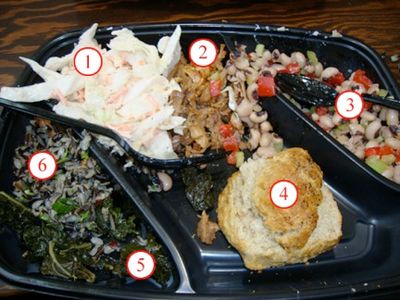 1. Cole slaw 2. Roasted pork 3. Black-eyed-pea salad 4. Whole wheat biscuit 5. Collard greens 6. Wild-rice salad

The cole slaw was pretty generic, in that sloggy, cole-slawwy way. Purple cabbage would have been a welcome addition. The roasted pork was fine, but I'm from North Carolina, so I wished Soul Daddy offered a vinegar concoction among its four sauces (all of which were too sweet for my taste — Jamawn's signature hot sauce tasted weakly of focus groups). My friend was harsher on the pork: "It doesn't feel like it's from an actual animal." Then again, he's a guy who managed to get trapped inside the Park Slope Food Coop, so what does he know? The black-eyed-pea salad "could have used some spices in it," per my friend. The whole-wheat biscuit was a whole-wheat biscuit, which is not meant as a slight. The collard greens will be discussed below. The wild-rice salad held its own, and it cheered me to see wild rice in a fast-casual environment. I explained to my friend that Soul Daddy's goal was making soul food healthy. His response: "They confused healthy with not being flavorful."
My friend broke his knife cutting into the baked chicken, but didn't hold it against the bird, which we both found surprisingly moist given the prominence of heat lamps at Soul Daddy. Regarding the cutlery, my friend insisted, "Actually, comparatively speaking, these are good utensils!" (The utensils struck me as entirely unremarkable; maybe my friend is used to eating at restaurants with utensils made out of cardboard and spider webs.)
My friend: "I like the collard greens; usually I don't. Are they cold by design?" This is the kind of question that demands an answer, so when the (impossibly tall and handsome) Soul Daddy manager — who actually works for Chipotle — asked my friend if he liked his meal, the conversation turned to the greens. The manager admitted the greens were not cold by design, and then offered a bit of information that lifted my spirits even as it blew my mind and bedazzled my heart:
Ladies and gentlemen, the collard greens at Soul Daddy are actually kale.
I saw a diner eating the pulled-pork sandwich ($4.95) and inquired as to his verdict. He said it was "great," though the bun was a little stale. "Then again," he added, "it's wheat bread, so that's what it always tastes like." This diner said he was a fan of soul food and had supped the night before at Hill Country. But was he a fan of ANGR? "I watched it at first, but kinda lost interest after five episodes." I threw my drink in his face. (JOKE.)
After finishing, I asked the cashier if Jamawn had visited the restaurant yet. Her cheerful reply: "He's here now! He's right outside."
Sure enough, I turned and looked out the door to see none other than Jamawn Woods (star of America's Next Great Restaurant) holding court at a patio table. I kind of freaked out: First, there was the frisson of seeing somebody from "TV world" in "regular world." Second, there was the realization that my professional obligation as a citizen-journalist would require me to talk to Jamawn. I am not an outgoing person, and I wasn't sure how to explain my marginal role in the ANGR cultural ecosystem, so I dreaded speaking to the man.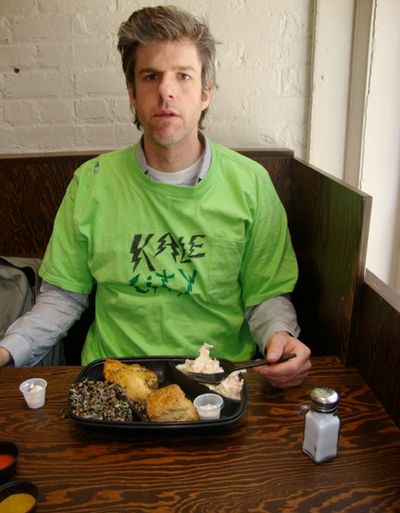 Your humble critic (in disguise, like all good restaurant critics), visibly overwhelmed with his responsibilities as a journalist. Photo: John Kearney

Jamawn was busy signing autographs, posing for pictures, hanging out with family, and generally fulfilling his bounden duty as Soul Daddy's brand ambassador. Sure enough, when I rose to say hello, he was shaking my hand and putting me at ease before I had time to clear my throat and look at my shoes and generally act like a huge dork.
When I told Jamawn my name was David and I'd been "writing about ANGR for a food web site," he said: "Oh yeah, David Rees!" He said he tried to read the recaps every week and thanked me for being "fair" in my assessment of the contestants. There followed a brief discussion regarding how little control reality-show contestants have over how they're presented onscreen — a conversation I also had with Sudhir (Spice Coast) the night before when he attended a comedy show I hosted. Jamawn, like Sudhir, also went on to confirm that Steve Ells drinks a protein shake made from raw goldfish every morning for breakfast. (JOKE.)
Soon, I felt my journalistic objectivity wilting in the blazing sun of Jamawn's enthusiasm and goodwill. I asked Jamawn about Detroit's reaction to his ANGR victory. He said it's been "nothing but love," and there is movement afoot to open a Soul Daddy in Detroit, where he's still based. (He says he is considering a move to L.A. or New York.) But one thing that wasn't clear to me was Jamawn's actual position vis a vis Soul Daddy. Is he the owner, or what? Turns out his title is Assistant Manager and Founder. (Because of his limited business experience, he's basically apprenticing under other people when it comes to the nuts and bolts of running a restaurant chain.)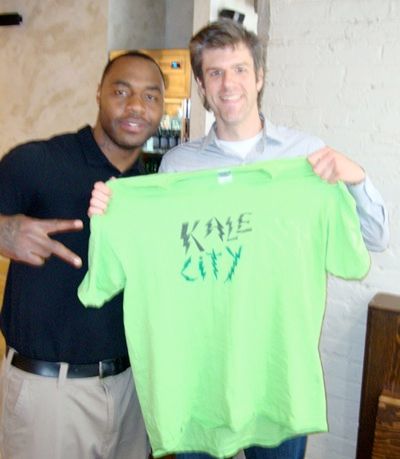 The photo may be blurry, but its message is clear: Kale City for life!Photo: John Kearney

I hope Jamawn makes a trillion dollars from Soul Daddy. I also hope he cashes out and returns to making chicken and waffles on his terms, according to his palate, all to the enthusiasm of his fans. Soul Daddy does not yet seem an accurate reflection of the man's talents — it feels like Steve Ells's vision of what soul food should be, which I suppose is exactly what it is.