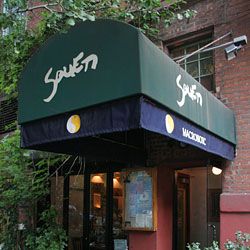 The Union Square location of Japanese macrobiotic institution Souen suffered its own tsunami, albeit a minor one, when a water main broke under East 13th Street early in January, ruining the newly renovated $1.5 million basement kitchen. Waters rose up to eighteen inches on the ground floor, but owner Masaki Yamaguchi tells us he's set to reopen on Monday. "We're going to sue the city because the [insurance] didn't give us enough money," he says, referring to the expenses incurred from the water-main break. A lawyer for the restaurant, Edmund Schaffzin, says the restaurant "looked like an aquarium," and claims his client spent at least $600,000 on clean up and repair.
Schaffzin says Souen was underinsured. The restaurant filed a claim for a "tentative amount" with the office of New York City Comptroller John C. Liu back in March. "We were not surprised the city did not respond," he says. "The only thing we received was an acknowledgement of receipt from the comptroller's office. This could take for years [to resolve] because thousands of people file claims against the city, so we may file a lawsuit to accelerate the process."
Yesterday, several men wearing face masks were still mopping up floors at Souen in Union Square, one of them claiming the reopening depended on approvals from the city's Fire and Health Departments. Later that night, construction workers under contract with the City's Department of Environmental Protection said they were working around the clock to replace eighteen-foot-long pipes on the heavily trafficked block, claiming they had been breaking over a period of six years. "The pipes are just old," said one of the hard hats, who identified himself only as Vinnie.