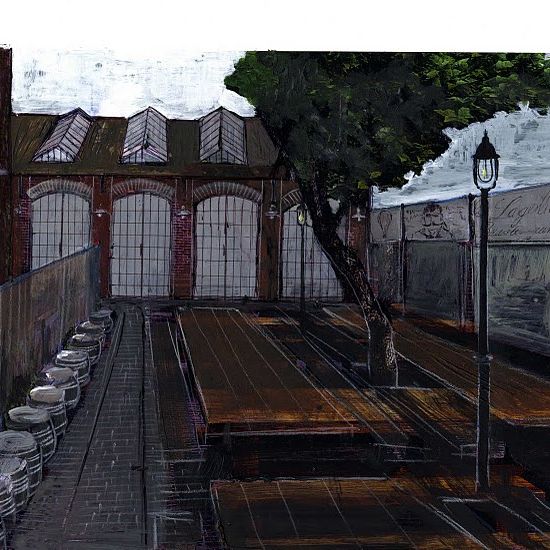 With the opening of Spritzenhaus in Williamsburg and the coming of BeerParc in midtown west (not to mention the recent opening of Bierhaus), New York City may be reaching its beer-garden saturation point. That might be why Andy Ivanov, co-founder of Radegast Hall, is opening his next one in Hoboken (well, that and the fact that after three years of operating Radegast, he moved to Jersey). The Czech native tells us he plans to bring a "truly unique experience" to the land of backwards baseball caps: "Let's bring some artsy, different feeling here — some Brooklyn stuff." But Ivanov isn't just limiting his crowd to the "beer connoisseurs of Hoboken." He admits "it's going to be challenging to bring people from Manhattan because of their perception of New Jersey in general," but he thinks he can do it. After all, Pilsener Haus will be walking distance from the water taxi stop when it opens (hopefully) June 30. And as you can see from the renderings in our slideshow, it's going to be something special.
Pilsener Haus shares a designer with Radegast, and was inspired by early nineteenth century Austro-Hungarian breweries and factories (a handcrafted brewery gate is arriving next week). The venue (with 4,000 square feet of outdoor space alone) will hold about 300 to 400 people. Fourteen- to twenty-foot-long communal tables will look onto gypsy and swing band performances a few times per week. Walk-up grills will complement a menu of spatzle, pretzels, patés, pickles, cheeses, and goulash. Plus, there'll be rotisserie chicken (an Oktoberfest staple) and pig roasts every couple of weeks. Twenty-one varieties of beer will rotate on tap, and there will be about 40 to 60 in bottles, plus schnapps, cocktails, and Central European wines.
All very good, but isn't this beer-garden trend getting a little tired? "I spend a lot of time thinking about why this concept is becoming so increasingly popular here," says Ivanov. "Basically, if you provide a large open space with a really relaxed, not pushy atmosphere, with a lot of elbow room and long communal tables and a lot of beer and good food, that's good for large groups, I think you have a winner." Hmmm — no argument here.
Pilsener Haus & Biergarten, 1422 Grand St., nr. 15th St.; Hoboken, New Jersey