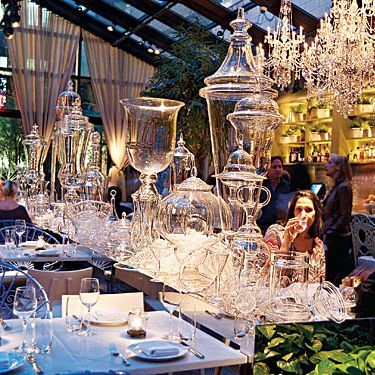 Imperial No. 9.
Photo: Danny Kim/New York Magazine
In this week's New York, Adam Platt heads to Soho to check out two trendy new spots. The first is Sam Talbot's Imperial No. 9, with which Platt's wife falls absolutely in love: "'I could eat everything on this menu twice,' Mrs. Platt declared." In the end, Talbot's "fondness for piling ingredients helter-skelter on top of one another and for using similar salty-sweet flavor profiles again and again" seems to bore Mr. Platt, but Mrs. seemed to enjoy it all the same. Word of warning: When you go, make sure you sit in the garden room, lest you be seated (as Platt was "one grim evening") in the main dining room, "a windowless lounge-lizard Siberia" where "the house music is annoyingly loud, and the glowing imitation Louis Quatorze furniture looks like it's been lifted from the VIP lounge of an after-hours club in suburban L.A."
Platt also swings by Niko, "another trendy new Soho restaurant with unexpectedly good cooking and a slightly feng shui–challenged atmosphere." Dishes, such as whiskey-spritzed steak, and fried chicken are "excellent," as is the sushi — even Yoko Ono, whom Platt spots in the corner, appears to be a fan.
The Robs, meanwhile, check out chef Tony Liu's recipe for lily-bulb bruschetta (which gets an extra kick of spring from sauteed green garlic) and get the scoop on the cheese counter at Daniel Boulud's Épicerie Boulud — including an exclusive raw-goat's-milk cheese made just for the shop.
Finally, Justin Davidson spots a house on Long Island that is the exact model of the "Typical American House," a replica of which was, half a century ago, "sliced down the middle, so tour groups could come through and gawk" and became known as "'Splitnik,' demonstrating to an incredulous Soviet people the heights of comfort enjoyed by the average American family." The replica also became "the stage for a public altercation between Soviet premier ­Nikita Khrushchev and U.S. vice-president Richard Nixon — the famous 'Kitchen ­Debate.'"