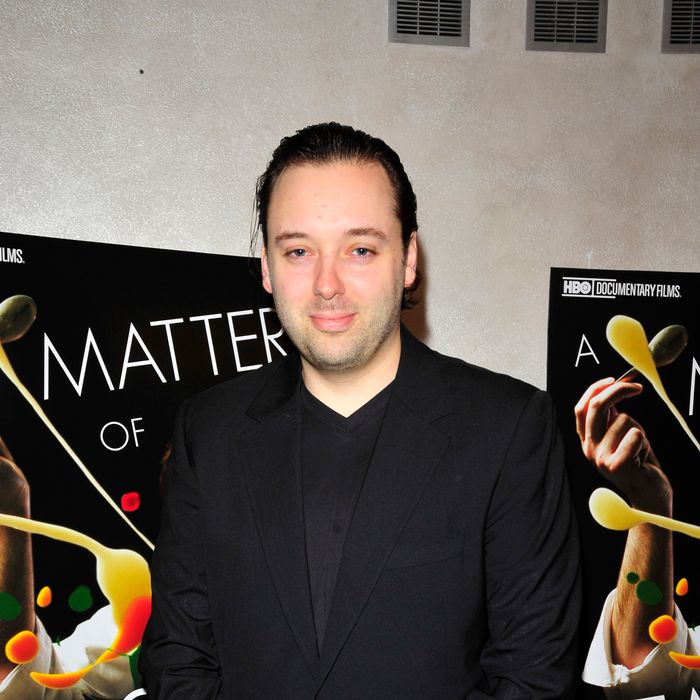 Photo: Chance Yeh/PatrickMcMullan.com
The HBO building swapped film geeks for foodies last night at the screening of A Matter of Taste: Serving Up Paul Liebrandt. The night started with a hyperemotional Drew Nieporent yelling at security for having such a strict check-in policy ("Surely you're not going to make Daniel Boulud go through this? He only has an hour!"). Upstairs on the fifteenth floor, guests like Ruth Reichl, George Mendes, and Sheila Nevins mingled before showtime. As the director, Sally Rowe, introduced the film, Regis and Joy Philbin conspicuously ducked inside the theater, with Regis shouting, "Blame Kelly Ripa!" The star of the evening was of course Corton's talented Paul Liebrandt. We caught up with him to find out what he thinks about the movie, where his favorite Chinese restaurant is, and what he does on Sundays.
It's rare to see you out having fun like this.
I'm not a chef-y kind of chef. I go home, I walk my dog; I don't do anything after work. It's exhausting. I'm not a young man any more! I'm 34.
What do you think of your fellow chefs who are becoming quite famous?
Whatever.
Don't you ever grab a drink after work somewhere?
Me? No way. I'm not cool. I don't hang out in Brooklyn. I don't know about the trends.
You should meet the Franks.
Who? I'm not cool in general. Marco Pierre White is the closest thing to a rock star chef I've associated with. That was in the mid-nineties.
Do you care what people might think of you after seeing those yelling scenes?
Doesn't anybody? Do you care what people think about you? The bits that were on Grub Street, you have to watch the whole movie to understand those bits. There's a reason for that moment. I'm not a shouter.
Your other hobby seems to be eating Chinese food.
Oh yeah! There's a really nice place, it's pretty downscale, it's called Yummy Noodles. It's, like, down a little alleyway. They have really good wonton soup.
You might have just changed their business forever!
I doubt it will do much.
In the film, it seems like you become a better man after you fall in love.
No, no! I just got older. I was 24; I was new to this country. I was lonely. When you work in a kitchen and don't have anyone else there, it can be monotonous. I'm a little more social now, but still, I am who I am. In this country, you have the small talk. I'm not a small talker. I'm not into that at all. I'm direct. I don't beat around the bush. I say what I mean. I'm honest. Social settings are hard for me.
It looks like there's no socializing in your kitchen, either.
Never. I need pure concentration. It should always be silent and focused in there.
Do you do anything else for fun?
I am a very big moviegoer. I go on Sundays. I saw Pirates of the Caribbean yesterday. It was all right. I got peanut M&Ms; and a Cherry Coke.
Earlier: Watch a Clip From Paul Liebrandt's 'A Matter of Taste'